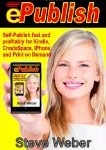 Steve Weber, the book marketing guru and author of "The Home-based Bookstore", the No. 1 book on online retailing, gives insight into how to sell your books and ebooks.
Ebooks and digital content have become the fastest growing publishing sector for the past five years. The author talks about their importance, no upfront costs for printing, storage and shipping and also introduces the reader to Amazon's ebook reader device, Kindle. He provides information on how to publish to the Kindle store, how to solve formatting issues, pricing and other related topics.
The author offers advice and tips on how to target the mobile reader, i.e. iPhone, Mobipocket, App Store and Amazon.
Other topics include:
How to get free exposure with no marketing costs
How to get reviews for your book that will turn into increased sales figures
How to price your ebook for best possible profit
How to market with podcasting
How to use affiliates to drive sales
How to expose yourself on social websites
Google Adwords
How to design your book cover
How to design your pBook
Fulfill pBook orders
Sell on Amazon
And lots more
ePublish by Steve Weber is a book every aspiring author should own and read. It gives clear and detailed advice on how to self-publish your own books with no start up costs and publishing companies.
Find out more Here: ePublish
Vera Raposo has been an entrepreneur since age 22, owning 5 retail store locations.
In 2007, she closed and sold all locations to pursue her online business.Now she's living out an entrepreneurs dream having successfully turned business into a venture that's completely online.

You can reach her at veraATclickcreateshare.com.
Latest posts by Vera Raposo (see all)