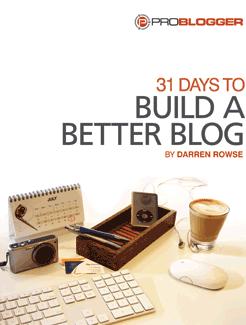 I was just checking my email for the night and noticed that it's Darren Rowse's 5th Birthday at Problogger and he's holding a very special pricing for his 30 Days to a Better Blog Series. You Get 50% off the price! It is a PDF that you can download right away.
Go here: http://www.verarecommends.com/workbook
Enter Discount: probloggeris5
Also, if you choose to grab it up, be sure to send me a copy of your receipt and I will send you my personal checklist for the workbook so you can actually get the work done.
I'm grabbing the workbook at the half off pricing myself so it will take me a few days to get the checklist together after going through it myself. But once it's done, I will send it over to you right away.
I have lovely checklists for my business including one that Yaro uses for his own members for his Blog Mastermind Program, so I know you'll get good use out of this one.
This is a wonderful way to get your blog on track, I followed parts of his last training live on the blog, and am looking forward to my very own physical copy of the workbook. 🙂
Step 1: Get it here: http://www.verarecommends.com/workbook
Step 2: Enter Discount: probloggeris5
Happy Birthday to Problogger!
Vera Raposo has been an entrepreneur since age 22, owning 5 retail store locations.
In 2007, she closed and sold all locations to pursue her online business.Now she's living out an entrepreneurs dream having successfully turned business into a venture that's completely online.

You can reach her at veraATclickcreateshare.com.
Latest posts by Vera Raposo (see all)