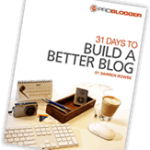 Recently when Darren had his Birthday at Problogger he put his book on for half price, so I grabbed a copy. With every single course that I download I put together a Checklist to keep myself on track. I'm also extending that offer to anyone who grabs a copy on my recommendation.
I've also already sent out all the checklists to those people who emailed me their receipt. If you haven't sent me your receipt yet, please do so and I'll give you access to the checklist. 🙂
That got me thinking about coupon codes, I probably would not have bought the workbook myself for a while. It always takes time and effort to follow a new course and implement the steps.
But because there was a decent discount, I went for it.  Then once I purchased it I almost kicked myself for not getting it sooner. It's a very good workbook and it will be easy for me to go through it and refer to it in the future.
Do you use discount codes for your products?
Here Are Five Reasons Creating Discount Codes for Your Website is a Good Thing
Discount codes give cost savings to customers while providing valuable data and inventory control to the seller.  Here are five reasons that creating discount codes can benefit an etailer's business:
• Bring in new customers – When a consumer is ready to buy and knows of multiple sources for the product, price is often the deciding factor.  Consumers are attracted to a good deal.  Offering a discount code to new customers provides an added reason to shop at a particular website over all other options.
• Encourage repeat business – Satisfied customers will be more likely to shop again when they are reminded to do so, and given a compelling reason to return.  A special discount code can be sent via email at specific intervals as a thank-you for past purchases and to encourage repeat business.
• Increase order size – Time-limited offers create a sense of urgency and give customers a reason to buy more than they originally intended.  Discount codes can be offered for a percentage off the purchase price of a second item, for example, or for free shipping on orders totaling a specific amount.
• Tracking – Gathering data on customer trends is imperative for every etailer.  Issuing separate discount codes for different mailings, website promotions and affiliate partners, for instance, provides important information on where customers come from and which marketing campaigns are most effective.  This data can then be used to make decisions about future marketing programs.

• Control inventory flow – Physical stores manage inventory flow by marking down items they want to move.  Online storefronts can use discount codes for the same purpose.  The discount can be offered across the board, or used to bring in new customers with an interest in that particular product category, or sent to previous customers who bought similar products.
There are several ways discount codes can be applied.  You can generally offer a set dollar amount off the normal price of a product, a percentage off the price of a single item, a discount on the order total, or free shipping on orders that exceed a minimum dollar amount.
Discount offers can be extended through a number of vehicles.
They can be posted on the landing page of the storefront.
They can be emailed to select past or potential customers.
They can be introduced on the order summary page to encourage the customer to add items to the shopping cart.
Or they can be listed at sites such as currentcodes.com or dealhunting.com.
Many people determine the effectiveness of their marketing strategies by tracking the use of discount codes. The information can help businesses achieve the highest possible ROI and sales at the best available rates.
Latest posts by Vera Raposo
(see all)