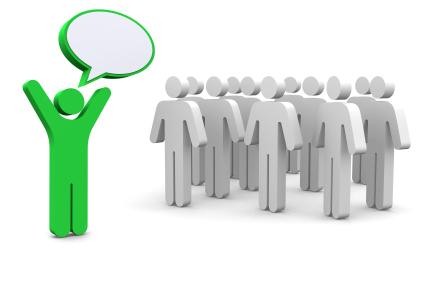 Public speaking for me was quite a hurtle. I knew this was a very effective way to promote my brand but the idea of it made my palms sweat. The first time I did it I spoke to a group of about 50 business woman. I was received well but they were not aware of the flubs and the number of times I lost my place. It occurred to me that I couldn't rely on a script and memorization. I had a tendency to go off in another direction when I got into my subject. A buddy of mine gave me the one piece of advice that changed everything. Peter said, "Ed you know your stuff, just talk about it." He suggested that I use the presentation frames to set the topic. To move through the presentation, give a quick glance oveer your shoulder and speak to what is on the screen. When I'm finished covering it, I glance again and move on.
Your Notebook To Do:



Answer the following Questions and put the ACTIONS in your To Do Notebook
Where are some places you can start speaking?
Is there a small local group you can begin with?
Decide where you'd like to start and begin!

Latest posts by RaposoRoach
(see all)