Building web sites is not rocket science, but it is job that requires many skills you can't learn overnight. Not if you want a good looking, yet functional and efficient web site. It is certainly a full time job on its own. So having this important task outsourced is smart.
On the other hand, when you've never done the job before, it can be a little difficult to know what to ask of your web designer. This list of questions should help you out.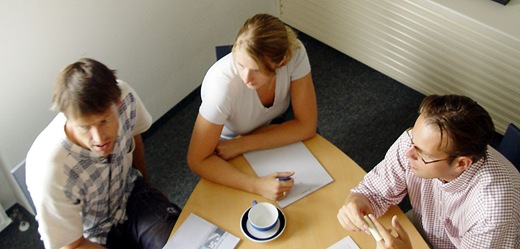 What skills do you or your team posses? HTML, CSS, Drupal, WordPress, MySQL, PHP, CGI, Ruby on Rails?
You may not fully understand what all that alphabet soup means and can do, it is important to have a rough understanding what this designer and their team is capable of. Web design today is no longer about HTML and static web pages of the 90's. There's interactivity and connectivity. You can make a site be as simple as a brochure or as complicated as your own social network with paid memberships on the side. The more complicated a site is, generally, the more your needs gravitate toward a Web Developer than a designer. Someone who can actually program or hook up the more technical things in the back end.
Developers usually have more technical skills like PHP, MySQL, CGI and Ruby on Rails. Designers generally are more on the artistic side, with graphic skills, strong HTML, CSS and even some Javascript. By asking them this, you'll get a better feel whether they have the skills to build the site you have in mind. Sometimes you end up with someone who is good overall though that is rare, unless you are working with a team of people.
How quickly can you provide a first draft of the site and how long does a job like this normally take?
A pretty standard question but important nonetheless if you are in a hurry or on a budget. The faster you need it, the more  you pay. Also, it helps you prepare your own promotional schedule. Don't take this literally if you're fuzzy with what you want. That will stretch the project out longer when you change things as you go. Tighten up the vision for your site, discuss this with the designer. The more focused you are, the faster you'll complete the site – and generally pay less too.
What is your working procedure and how will you communicate your progress?
Way too often I hear of designers and clients falling out because of the failure to communicate. And this can happen both ways. The client leaving everything up to the designer until it is finished and finds out that's not what they want or the designer not communicating how much more work that 'one little tweak' the client asked for is going to take.
Personally, I don't like to work with clients who are too hands on and questions my every move, however it is important the client checks in once a while. Both parties should have a pre-determined check-in time throughout the project just to see if everyone is still on the same page as you progress.
How much support comes with this package deal?
Designers usually build packages around an estimated number of hours, including some support. Do not expect to pay $500 and have people work indefinitely for you, answering questions or tweaking things here and there forever (like asking for a tweak one year down the road and expect it to be a freebie). The awesome designers I know often won't mind an extra few minutes here and there but they aren't working for peanuts either.
You have to know that sometimes, what looks like a small tweak to you takes hours of work in the background, to build up before that tweak you asked for can even be applied. A good designer will tell you up front if this will be a problem. This goes back to the scope of the project. Don't be fuzzy. Be clear what you want. This way you will find working with your designer a whole lot more pleasant and you keep everything under budget.
What kind of after support do you offer?
Sometimes, you just can't help it. You need more help. It could be immediately following the completion of the project or some time after. Ask what kind of rates you'll be getting. This again should be motivation for you to keep the scope of your project clear.
What is your normal procedure if the job does not turn out satisfactorily?
When a job is fairly large, paying an up front lump sum is not a good idea. Sometimes people just bail out on you despite your best efforts and research. Other times you may find you don't really work well together. Because we are spoiled by generous refund policies of other products we consume, we often want to demand a full refund. While there are cases where this is acceptable and OK, but when it comes to web design or any service that you are using up someone else's time, that's something they cannot take back.
On the other hand, you don't want to be paying full price for a design you don't want. Hash these out before you start. One of the best ways to work this out is to agree on a payment plan. Percentage down to start work and additional payments upon reaching pre-agreed milestones.
What software or technology will you be using to build my site and will I be able to use and update it myself?
I once had someone build an app for me and then ditched me altogether. Now, I have an app built upon technology that very few people are familiar with. It is difficult and very expensive to find a replacement to pick up where he left off. Ideally, you'd want them to use something more in the main stream versus a software that only 10 people in the world know how to work.
Does it cost extra for this software or does anything you recommend to build this site going to require additional license purchased?
This is so crucial to your budget. When you ask this, you will know if the package includes everything or you'll have to fork out licenses to third parties to get the job done.
We would like the domain name administrator to be in our representative's name and email. Can you arrange that?
This is so important. Some unscrupulous designers or companies actually hold client sites hostage because they are listed as the Administrators of a domain. When a client wants to leave for another designer, they make the clients pay a transfer fee to release their domain. When a domain is not in your name and contact, no matter what you say, registrars are not going to hand it over to you. Insist this be in yours or a representative's name and email address.
Can I see a portfolio of previous sites built. Or is there a demo of a site similar to what you will be building us?
This will help you see if a designer tends to gravitate toward a certain flavor in their designs or if they are quite versatile. One is not necessarily better than the other. Sometimes, if you have a clear vision what you like your design to be, it could be better to go with someone who excels at the look and feel you are aiming for. Also demo sites allow you to get a feel of what you'll bring home at the end of the day.
I've worked many sites for clients on various projects. If out of this there is one take away you should get is, be clear about the scope of your project. Don't generalize. If you don't know how to express yourself, find examples for the designer to see and tell them what you want and don't want from those examples. More information is better than inadequate or no information. This always makes a job smoother and least stressful.
Photo by Carl Dwyer

Latest posts by Lynette Chandler (see all)