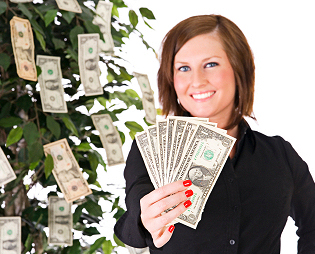 If you want to invest money in a new business, then chuck those overburdened checking accounts, piggy banks, change purses, mini-safes, and spare mattresses into the fireplace and look no further than your nearest banking institution, friend, or investment firm. Loans are a low-risk endeavor when compared to taking money out of your house or personal savings to front a business venture that has the potential to fail — and leaving you and your finances hanging out to dry. With a loan, you can ensure that your business has everything it needs to thrive while not worrying about your own financial ruin. That way, if business goes south, it might go bankrupt, but you won't. Here are a number of investing options and why we think they're worthwhile:
Small Business Loans. Though small business usually require a decent credit history on your part, you have a number of options for financing. Secured loans require a form of collateral assistance (and, as a result, offer low interest rates and flexible repayment options) while unsecured loans, which do not require collateral, can have interest rates as high as credit cards, even. Still, if your company is profitable and you do well with payments, this is a much lower-risk option than fronting the money yourself.
Government Business Loans. A government-backed Small Business Administration loan may be an option for those that want a bit of oversight on their risk. While the government does not exactly provide loans in this instance, it acts as a loan guarantor, agreeing to pay your lender back a certain percentage of the borrowed amount in case you default on your repayment. There are tons of loans available — from start-up funding assistance to expansion assistance –and the government's funds are vast enough that they'll have enough to lend to you during bad economic times, as well. Special groups (like women, Native Americans and veterans) have targeted funds.
Angel and Venture Capitalist Funds. It's the job of venture capital firms to invest — and if your business is fast-growing and particularly "entrepreneurial" in spirit, you'll probably attract an investor. In exchange for an equity stake in your business and some influence on the decision-making process, venture capitalists commit funds to expand the growth of your business. Consultants determine whether your business proposal is high- or low- risk before deciding on a commitment. VCs also have more money down the road, should you need it.
"Angel" investors put up private money, and typically require high returns on their investments — but they have no "set" limit on the amount of funds they may contribute. They also act as mentors and educators, having already made it big in the corporate world. There are no monthly payments, and you get a large network of contacts and information in exchange for equity.
Gifts/Grants. Friends and family can be surprisingly cooperative when it comes to financing your venture. The funds are usually available quickly, and the contractual obligations are low — although, to be safe, you should write and prepare something in case of fallout.
In addition, there are a number of government grants that can fill in the gaps in your investment money. Your state or local economic development agency probably has money set-aside for projects or ventures tied to a specific cause, and, because the money is essentially "free," there's no need to pay back returns or interest. Other investors will love this kind of debt-free funding and potentially rank you higher in their consideration because of it, as well.
Remember: if you intend on making your business successful, you might as well start with a bang. What's better than using someone else's?
Additional Resources: For help finding banks, investors and other funding sources check out Funding Universe.
Tammy Livingston is a freelance writer who specializes in writing about business topics.Tammy own her own small business and enjoys writing on the side.
Latest posts by Tammy Livingston (see all)