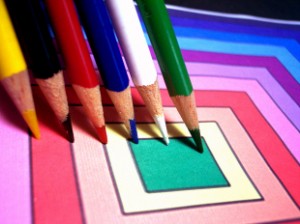 I'm aware that as a Graphic Designer, working alongside Printers, there are a number of terms that we may use that mean completely nothing to a business owner. So I thought I'd write a series of articles that clearly explain some of these terms. You can use it as a reference guide so that next time you're speaking to your designer or printer you know what they are talking about.
Graphic Design Software and File Types
Designers use a number of software programs with lots of different file types. Talk of Jpegs, Layered files, eps files can all get bit much. Here are some of the main programs and file types listed and explained.
The main programs used for desktop publishing in the Graphic Design Industry are Adobe Illustrator, Adobe Photoshop and Adobe Indesign.
TOP TIP: Inkscape, Scribus and Gimp are Open source equivalents of the software mentioned above. Open source, meaning completely free.
Adobe Illustrator
Illustrator is a Vector Graphics editor that is predominantly used for drawing Illustrations and Logo Designs. Vectors are graphics that are made up of mathematical points. Because of this, Vector graphics can be scaled up or down without loosing any of their quality. This is why software like Illustrator, is preferred by designers, to create logos. These can then be scaled to a large shop sign or to a small logo for your business card.
Main File Formats:
.ai – this is the original file format that Illustrator creates and can only be opened by Illustrator.
.eps (Encapsulated PostScript) – this file is a stand alone file that can be imported into other programmes like Photoshop or Indesign.
TOP TIP: If a Graphic Designer has created a logo for you ask him to provide it in .eps format. This means all the required information is contained in the file and you can send this to other Designers to use.
Adobe Photoshop
Photoshop is a graphics editing software. It allows designers to create and manipulate pixel based images in many various ways. Every image created in Photoshop is made up of pixels and the more pixels an image has the larger the file size will be. A logo that you have used on your Powerpoint presentation may only be 200 kilobytes where as an image used on a Billboard may be a few hundred Megabytes.
TOP TIP: File size is typically the reason why people try to send emails and they bounce back. The image is usually too big to get through the email or your Powerpoint file is too big because you've filled it with large images. Most email servers these days can handle files approx 10megabytes big. If you are sending larger images to people via email, try using a file transfer site like www.yousendit.com
Main file formats:
.tiff – (Tagged Image file format) – this format is typically used by designers in desktop publishing as it saves the file without loosing any of the quality. The files sizes are usually quite large.
.Jpeg (Joint Photographic Experts Group) – this format is used to compress files. The more a file is compressed the smaller the file size. But this also leads to an increased loss of quality. Files shouldn't be saved as a Jpeg more than once as every time you save it, it looses more quality.
.gif (Graphics Interchange Format) – gif images are mainly used for websites as the compression allows for very small file sizes. gif's can't handle too many colours so it is best suited for simple images such as logos. It also allows for transparent backgrounds.
.psd – this file format is the original Photoshop format. It allows for multiple layers to be saved in the same file.
Layers, in Photoshop, are a tool that allow multiple images or effects to be placed one on top of each other. This allows for easy editing as each layer can be removed or amended quickly.
TOP TIP: Always ask for the layered files of any artwork that is created for you in Photoshop. This means that any future designers can easily manipulate the work using the .psd file.
A note about File resolution:
The following is a regular scenario in my day job. A designer requests an image file. An image is grabbed from a website and sent. The designer responds, saying that the file is not good enough quality and asks for a High Resolution file. Why is the designer asking for this?
All images have a resolution or dpi (dots per inch). The higher the resolution, the better quality the image. Designers and Printers usually work with files that have a resolution of 300dpi. This allows for the image to be printed at high quality. The resolution of your computer screen is 72dpi. When people optimise their images for the Web they reduce the resolution down to 72dpi as this dramatically reduces the file size. Any more than 72dpi is a waste as your screen won't display any higher than that.
TOP TIP: If you have a database of images, keep one folder of your High-Res Images or your 300dpi images and a Low-Res folder with all your 72dpi images in them. This will allow you to quickly navigate to the correct file type when asked.
Adobe Indesign
This program is predominantly used for Brochure or Newsletter design. Quick and flexible page layout tools in Indesign allow for great multiple page documents.
Main file format:
.ind – This is the original file format for Indesign. Once the document is finished it is usually exported as a HIgh-Res PDF and then sent to the Printer.
A note about PDFs:
PDF (Portable Document File) – is an open format for document exchange. It is created in a program called Adobe Acrobat and can be opened by a free to all program called Adobe Reader. Designers use PDF documents because all the file information can be stored in one file format that can be accessed by anybody with Adobe Reader. PDFs can be saved as High Resolution files that are ready to Print. Once exported from a program PDFs can not be adjusted in any way. All the programs listed above can export PDF documents.
TOP TIP: If your designer has provided the final artwork as a PDF document, make sure that you get access to the original file format, wether ,ai, .psd or .ind, as the PDF document will no longer be able to be amended.
Craig Balbirnie has been a Graphic Designer for the past 9 years.He runs the website
www.myshopsigns.com
that provides Free Printable Signs, and Graphic Templates for small businesses.
Latest posts by Craig Balbirnie (see all)