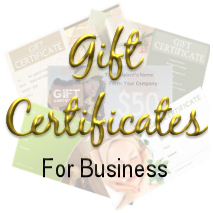 Gift certificates are a great way to make more sales and increase customer loyalty for your business. The returns on investment can be great provided you focus on effective marketing strategies. First, let's review what benefits a sensible gift certificate marketing strategy should bring you:
Increase sales
Gift certificates work. They help you make more sales by reaching new customers, and they will also increase your sales for other reasons: indeed, most customers will spend more than face value of the card (on average, 20 percent more). A minority (about 10 percent) will use only part of the certificate's value, which means you keep the profits.
Improve cash flow
When someone buys a gift certificate, they are pre-paying you for services that another person will receive later. In other words, gift certificate sales really represent cash deposits or full payments for services planned for well in the future, which means 100 percent of the cash is yours to use until the certificate is redeemed.
Increase Brand Awareness
Gift certificates give you the opportunity to advertise and promote your business with wallet-sized billboards. You were already paid because of the sale of the gift certificates, so you are allowing new customers to try out your business with a paid visit from your existing customers.
Gift certificate marketing objectives
Your gift certificate marketing strategy should target the following objectives:
Communicating the fact that gift certificates are available and are a popular and desirable gift
Conveying the relevance, variety and quality of the gift certificate; offer upsells such as metal tins, boxes and die-cut envelopes for a distinctive touch and to add to the fun
Reinforcing the "convenience" benefit of purchasing gift certificates
Building awareness of your gift certificate program through inclusion of certificates in print, direct mail, e-mail, online, and other advertising opportunities
Gift certificate marketing ideas
Impulse purchase
You should place all gift certificate designs on a highly visible, easily accessible, well-organized page on your website, as well as on your confirmations and receipts, which will appeal to impulse purchasers. Big stores all have their gift cards at that location, that's because it works.
Partnership
A very effective way to market your gift certificates is to partner with another local business. The way it works is that you offer gift certificates for the other business, and they would do the same. It works better if your businesses are somehow related, or could attract the same category of customers.
Personalization & Diversification
Gift certificates are usually given for special occasions: birthday, Christmas, graduation etc. Make sure that you have a wide array of gift certificates so that you can accommodate all gifting desires. Having unique designs and personalization options like space to write a personal message helps. You can also have designs that appeal to corporate customers, so that you don't miss potential sales.
Reciprocal agreement
Reciprocal agreement is a widely used sales technique meaning that you first give an item to somebody. The sense of reciprocation, deeply rooted in human social behavior, makes the customer want to give something back. You could offer a gift certificate of small value to a person visiting your shop for the first time. Reciprocal agreement kicks in and you have turned a visitor into a customer, likely along with a juicy purchase.
Liking
Liking means that we are more sensitive to people we like, like our friends, and so we value more advice or opinion coming from them than coming from a stranger. This is also a widely used sales technique. For example, at checkout time, you could offer a gift certificate to a customer and to his best friend (if that still makes economic sense to you). That will act as a referral and you've secured a new customer, your customer's best friend.
Latest posts by Tommy Jarnac
(see all)