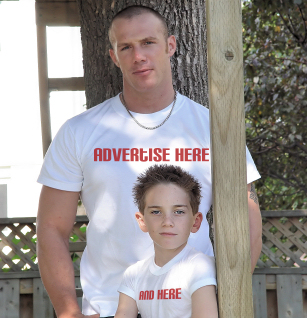 If you are reading this blog, we can safely assume you care about the branding and marketing of your business. You may have spent ages choosing and building your brand identity through social media, your website even right down to signage and business cards. You may have carefully choreographed cross-channel advertising campaigns to highlight your current promotions. Now all of these are great, but there may be something you are overlooking that could have much more of an impact promoting your business – the humble t-shirt.
Talk a walk around the block, what's the first thing you notice about the people around you? Usually it is the clothes that they are wearing. And it is for that reason that there are few forms of lasting advertising that are as effective as T-shirts build brand awareness or raise awareness of your current promotion. The reason for this is simple, when someone wears a T-shirt with your brand on it, they become a walking billboard for your company, be it a uniform, free gift to customers or a product you sell. In addition T-shirt can last longer than a print ad, which generally have a short lifespan, yet be just as effective. When compared to the cost of a print ad or billboard and the return on each, a successful screen printing on a T-shirt can have a significant return on your business' money.
Tried and tested options, such as print or broadcast advertising or direct mail are tried and tested for a reason, they have a proven record of success. However, in many cases they can also become costly and have a short life expectancy. In the case of direct mail, print or display advertising, the lifespan of these promotions can be very short, such as one print run of particular publication. And that is assuming your target customers read the advert or opened the mail in the first place. Unless you have the luxury of a big budget any broadcast advertising will limited area that it unless you are lucky enough for it going viral on the Internet. However, a T-shirt has the ability to travel as far as the person wearing it, and the T-shirt's material combined with a quality screen printing can make it last much longer than a piece of paper or how long someone may remember a 30-second spot on the radio.
The most common method of utilizing t-shirts as part of your overall branding strategy is through staff uniforms. As well as ensuring that staff look smart and increasing how professional the business looks, which will lead to greater confidence from customers. Winning a customer's confidence is vital when trying to sell them a good or a service, so these printed t-shirts will go a long way towards making sales and increasing profits.
In addition to advertising a specific business, printed t-shirts can also be used to advertise different offers that the business might have on at a particular time. By staff wearing these t-shirts customers will be more likely to know about the offers and therefore buy products from the business. When this is combined with staff that push any offers or new products, as well as signs that inform the customers, every single person that the business deals with will know about every single special offer that the particular business offers.
Perhaps one of the best things about printing on T-shirts is how customizable it can be. With the choices available for material, cut and style, you can choose the shirt that would best represent your business. Perhaps you have a semi-professional business that would be better suited with a polo T-shirt or an athletic goods store that would do better with a breathable sports material. With a printed t-shirt there are no limits to what you can do so you can accurately get you corporate message across.
Of course it is worth noting that there are considerations to take when designing your shirt, just as there are for developing any advertising campaign. Traditionally, many organizations have simply printed their company logos on a T-shirt, and whilst there is nothing wrong with this, more and more businesses are getting creative with their designs. These designs may include slogans and branding, while others use eye-catching designs or artistic prints. Obviously, the more intriguing the design or popular a company's brand, the more likely it is that a person will want to wear it on a T-shirt. Another important consideration is the quality of the garment; if you want people to wear it then you have to ensure it is cut from a good quality fabric, and not simply the cheapest.
Like any kind of advertising, you should keep the medium in mind. There is only so much space available on a T-shirt and so much text that a person is willing to read. Though unique and eye-catching designs can help to ensure that people are drawn to them, if they are so complex that your company's name or logo gets lost, the shirt won't be serving its purpose. Additionally, you should make sure that the color or colors you choose will stand out with the shirt as a background.
If you keep these things in mind, the value, durability and market-broadening potential of T-shirt promotions make them a sound investment for your business.
Latest posts by David Harrison
(see all)