My wife had been telling me how uncomfortable her office chair has been for a while.  So we went to the local office supply store, determined to find a chair she really liked and resolve the situation once and for all.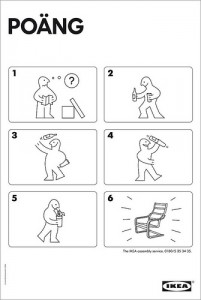 After 30 minutes or so, she made her decision. One of the first things the associate asked was if we would like to take the display model.
"It's already assembled, and it only costs $7.99 extra."
My wife almost did a double take and replied "Excuse me repeat that again" – this was not looking good – to which the associate promptly did. My wife gave me a look that said, "Seriously?" then promptly proceeded to tell the associate a firm NO. Go get us a new one.
Alas! 10 minutes later, the associate returned with not so good news. Apparently, they couldn't find one in the store room even though the computers said they had 3 in stock, then proceeded to sell us the display model again, "…for only $7.99 extra and you don't have to assemble it."
Somebody had trained this associate well on the $7.99 already assembled upsell. But I knew my wife will never go for that. You see, she was too polite to way what's on her mind, that the display unit was a USED item. She later whispered to me, "Haven't display units always been sold at a discount? But the new ploy is I have to pay more instead of getting a discount?" On top of all that, to her this was a sneaky way to make more out of a sale. An upsell. Small one compared to the price of the chair but an upsell nonetheless.
On the other hand, I can also see how an chair requiring assembly may be intimidating to someone who may be assembly challenged or simply can't be bothered with it. In that case $7.99 is a small price to pay – used chair or not.
For my wife, the thought of paying extra (even though she could well afford it) for something 'used' is too much of a deal breaker and we were ready to walk out the door when the manager got involved.
In the end, and they did locate the stock. Surprise! My wife got her new comfortable chair and I was the lucky guy who got to assemble it for her.
How do you feel about "already-assembled" upsells? Would you have sprung for it?
Image by Brett Jordan