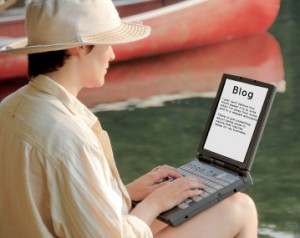 Business blogging is a great way to share information with a target audience for many reasons. Unlike other promotional materials like white papers and EBooks, a blog tends to be a lot less formal. It's also easy to access and update, which encourages a blogger to post frequently. While a steady stream of new, quality content on a blog is extremely important there are a few ways to take your blog to the next level.
First, think about search engine optimization. SEO professionals have been touting the benefits of blogging for a long time. Since a large part of SEO involves content and a blog is a place to post content, it's like a match made in heaven. The search engines rank websites based on keyword relevancy and a blog is a great place to incorporate keywords. Keywords should be included in the headline and body of the blog post naturally. This improves the chances of the blog post being found in a search for certain keywords.
A blog is especially a great place to target some long tail keywords that you didn't have the opportunity to target on the main pages of your actual site. While blogging and SEO should work together, it's important to remember that SEO shouldn't be the primary focus of blogging. The focus is always on writing quality content that your target audience will appreciate. If you put too many keywords in there it results in a poor user experience and looks spammy. SEO is just a side benefit to blogging.
Blogs are also a great place to connect with others. Long before Facebook and Twitter existed, people set up blogs to share their thoughts and opinions on every subject imaginable with anyone that was willing to listen. The comments section allows blog followers to respond to the post. Not monitoring and responding to comments is a huge missed opportunity for some bloggers.
The whole point of spending the time researching, writing, editing, and posting a blog post is to get someone to read it, right? It's important for bloggers to show that they appreciate their following, which for a business is mostly their target audience. Taking the time to respond to followers and even check out their content is a great way to network and it can lead to relationships and business opportunities over time.
Another way to take your blog to the next level is to increase its readership. While this may seem like, "Well, duh", it's a lot easier said than done. Depending on your niche there might be lots of bloggers out there writing about very similar material. Blog readers only have so much time to dedicate to reading their favorite blogs. Your goal should be to make yours one of them. Unfortunately it takes a lot more than great content and a great design and layout to get people to find your blog in the beginning.
The only way to get readers is to promote your blog. If you have a social media presence or newsletter subscribers, start by promoting your blog there. Encourage your followers to share links to their followers. Submit your blog to blog directories and do some link building for your blog. It may take some time, but it will be worth it in the end!
Latest posts by Nick Stamoulis (see all)