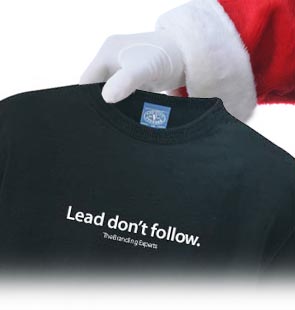 Another great brand move is acknowledging your customers and advocates at Christmas. Ending the year on a high note is very motivating while you're moving into a new period. Looking back over the year appreciating those who saw fit to trust you and bring you business. Every year I put together something I think will resonate with this supporting cast of players. For the last several years, I put out a quality calendar of my water-colour paintings ( a serious interest of mine ). They were well received as most never had any idea that I painted.
This year I took my motivating slogan "Lead don't follow." and put it on black mugs and sweatshirts. I will wrap this package up and present them. I didn't want to just put on my logo which would be more or less an ad for me, and instead put a motto that my supporters could definitely live by. Having gone through my process, they 'get' that statement in a big way.
It is not so important what you give, it is the appreciation you show for their support that counts. It makes your brand shine that much more in their eyes. It's all part of the big package. If you're in retail, you can offer customers back a percentage of their yearly purchases. This has the added benefit of drawing them back into your location as a premium customer.
The reaction this effort produces will immediately resonate with you. Nothing feels better than giving back.
For more than 30 years, I have worked with hundreds of successful small businesses by helping them develop unique brand positioning strategies that differentiates them from their competition. I appreciate working with companies who see the value of going beyond mere slogans and have a desire to sell from compelling positions. I consult predominantly with businesses facilitating my proprietary branding process. This branding process effectively focuses a company's brand delivering a positioning strategy that can be taken to their marketplace.

I have international speaking experience and am the author of "101 Branding Tips," Practical advice for your brand that you can use today. I'm also a "expert panellist" with Bob Proctor (from The Secret)'s Matrixx Events in Toronto.

I have been interviewed in all media and I also blog extensively and uses the digital realm on the web to connect and promote my services world-wide.

I have international speaking experience including a recent event in Prague, in the Czech Republic and is the author of "101 Branding Tips," Practical advice for your brand that you can use today, the book is available on Amazon.com and the Amazon Kindle store.

My clients are from Canada, The United States, Ukraine, India, United Arab Emirates and Tanzania.

I recently facilitated a workshop in San Diego aimed at teaching Graphic Design companies how to build brands for their customers.