What is the most common complaint about online marketing?
Traffic, or lack of it – How do you get visitors to your website?
The web is not like the real world. You don't set up shop and have an instant audience walking by your premises. Once your website is online the only way to get visitors is to actually do something proactive to attract them.
There are literally hundreds of ways to get traffic to a website. Some cost money, others take time and your results can vary dramatically. My guess is that you want your website generating sales from the day you launch it. The most effective way to meet this goal is to use Pay-Per-Click advertising.
What Is Pay-Per-Click Advertising?
Pay-Per-Click (PPC) advertising is a method of online marketing where you buy traffic from other websites based on a per-click fee. A click is counted each time someone clicks a link that brings them to your website. It's a good method because it's trackable, you know how many clicks you get and how much money you spend per click.
PPC has been around for a long time but it wasn't until Google implemented PPC and built an amazing system to support it that it became easy for any person to use it. The system is called Google AdWords and is all you need to get your business going.
Google AdWords
I'm not going to teach how to use Google AdWords – there's a full course worth of information on that topic alone. Instead I'll teach you why and how it works so you understand the basics and can decide if it's right for you.
If you are eager to get using AdWords head over to the Google AdWords sign-up page (https://adwords.google.com/select/) and start exploring. There are many help files and online lessons that Google provide to learn the system so you won't be lacking study materials. One word of warning though, especially for those not familiar with PPC –
Don't spend any money on AdWords until you at least finish reading this article AND study techniques for successful PPC campaigns.
It's very easy to spend lots of money quickly with AdWords, implementing poorly thought out campaigns and attracting the wrong kind of traffic. If you are ready to learn more about AdWords I recommend Perry Marshall's free AdWords course as a great beginners guide. I took it myself after failing miserably with my first few campaigns. You can sign up for his free course here – http://perrymarshall.com/google/
Where Do Google Ads Appear?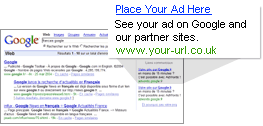 Google AdWords allows you to place advertisements, usually as text boxes but also banners, on the Google search results pages and also on the Google content network. The search boxes you should be able to spot easily whenever you use Google to search. Down the right hand column and sometimes as the first two "sponsored results" you will see text boxes advertising websites. The content network is made up of websites that display Google AdWords on their website in exchange for payment from Google.
Contextual Advertising
Contextual matching is the real secret sauce when it comes to PPC advertising. AdWords uses a keyword system. You bid for words and phrases that match what your target market are searching for. When a person searches Google using your keywords your ad shows up. This is called contextual advertising because you can clearly refine your campaigns to match your exact target market using context sensitive keywords.
Here is a simple example –
Let's take a plumber living in Sydney. He wants clients but they can't be too far away, ideally within short driving distance. His target market is people searching for a plumber in the Sydney area.

To attract this market Google AdWords can be used to bid for keywords such as "Sydney Plumber" or "Plumber Sydney" etc. The AdWords system can be set up to target geographic areas so our plumber targets only Australian Internet users and ensures no overseas browsers see the ad. Whenever an Australian searches using those keyphrases his ad shows up making sure that any clicks come from targeted visitors – people that are searching for what he offers.
There are many further refinements available within the Google AdWords system, too many to go through within this article, but you can rest assured that any target market that is using the Internet can be reached with the AdWords system.
The Big Picture
Now you can put all the online marketing ingredients together. You have a website. You have autoresponders ready to capture website visitor information and build a reputation with your audience. You have a means to attract your target market. In a nutshell that basic formula is all you need to generate more customers than you can probably handle. There are skills to learn and certainly AdWords has a level of complexity that can only be mastered with practical experience, but even at the most basic level it can bring you substantial traffic for as little as $100 per month.
In the next chapter of this course I'm going to teach you about search engine optimisation. Specifically ways you can have your website appear higher up in search engines organically – not using PPC advertising or spending any money. This is a slower process that doesn't bring results very quickly but is worthwhile studying if you intend to be marketing yourself online for the long term future, which is definitely a smart idea.
Yaro Starak