Download the MP3 [ 35 Minutes – 8 MB]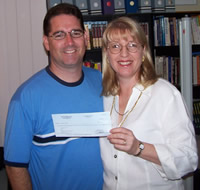 Daryl Grant and her husband Andrew (www.andrewanddaryl.com) started selling e-books online in late 2004. The next year they had revenues of over $250,000 USD selling multiple information products on various niche topics. They now have a proven system for finding niches, conducting market research, outsourcing the production of quality books/information and marketing and delivering the products through the web. Not bad for a couple who barely could do much more than surf and email when they got started.
I found out about Daryl and Andrew after seeing a newspaper article about their success. I got in touch and arranged to do this podcast with Daryl. We ended up talking for nearly an hour so I broke this podcast into two parts. The second part will be released sometime soon.
If you want to hear how Daryl managed to create a $250,000 passive income stream in a year's time then you will enjoy these podcasts. If you would like further information on how you can start your own information product business take a look at the resources Daryl has provided at her website – AndrewAndDaryl.com
Show Notes
First up an introduction to Daryl and what she did before starting her current information product business.
We find out how Daryl manages an Internet business despite her limited technical abilities
I asked Daryl how she learnt the marketing/business skills to do what she does and she talks about Mal Emery's mentoring program she joined with her husband
I ask for specifics about the process of how she sets up each site, how she gets the books produced, how she gets traffic to the sites, etc
Part Two
You can now download part two of this interview here – How To Make $250,000 A Year Selling e-Books – Part 2