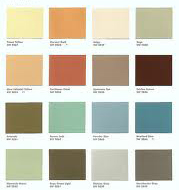 Nothing is more striking visually in a brand than its colour palette. It can move people, calm people and agitate them. Colour has meaning and can be historically relevant. An example of what I mean by this is – let's say you have an antique store or modern store for that matter that sells 1950's era goods that are original or retro. You would be wise to use the pastel colour palette from that era (shown here). On doing this, your audience would immediately relate to the environment you are trying to create.
Color also can help the customer feel a certain way. Red for instance is a power colour. It motivates. This is the number one colour used in retail sales to get customers to react to a sales statement . Act Now! Call Today! Up to 50% off – these are things you see every day and colour sells them.
I also like to analyze what colours the competition is using and use a palette that is completely opposite which is currently being used. Think UPS and brown. This is a leadership approach to color selection. How ever you choose to pick your corporate palette, don't just make the choice based on your personal taste. If mauve is the proper selection to help you sell, don't ignore it just because you may not like mauve.
For more than 30 years, I have worked with hundreds of successful small businesses by helping them develop unique brand positioning strategies that differentiates them from their competition. I appreciate working with companies who see the value of going beyond mere slogans and have a desire to sell from compelling positions. I consult predominantly with businesses facilitating my proprietary branding process. This branding process effectively focuses a company's brand delivering a positioning strategy that can be taken to their marketplace.

I have international speaking experience and am the author of "101 Branding Tips," Practical advice for your brand that you can use today. I'm also a "expert panellist" with Bob Proctor (from The Secret)'s Matrixx Events in Toronto.

I have been interviewed in all media and I also blog extensively and uses the digital realm on the web to connect and promote my services world-wide.

I have international speaking experience including a recent event in Prague, in the Czech Republic and is the author of "101 Branding Tips," Practical advice for your brand that you can use today, the book is available on Amazon.com and the Amazon Kindle store.

My clients are from Canada, The United States, Ukraine, India, United Arab Emirates and Tanzania.

I recently facilitated a workshop in San Diego aimed at teaching Graphic Design companies how to build brands for their customers.