If you take the time to study any successful business from large to small you'll notice some qualities they all have in common. If you want to have a long term business it's important that you learn what these qualities are so that you can develop them within yourself. Thankfully, most things can be learned even if they don't come natural.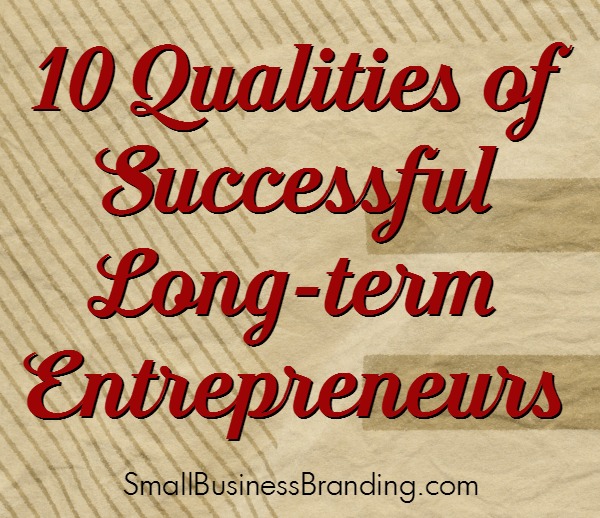 When I first started my business more than two decades ago, I was building HTML websites, managing newly formed online communities through bulletin board systems and a lot of other things that I don't do today. I'm still in business because I ensure that I keep moving  forward with technology and the needs of my audience.
They Do What They Enjoy
Long term entrepreneurs are smart to choose to do the things they love to do. Naturally all businesses have some things none of us want to do, but once you get your business off the ground you can outsource the things you don't love and focus on what you love. But, overall it's important to choose a business that you'll be passionate about and enjoy the end results. If you choose something you love you're going to be more likely to enjoy your life and stick to it long term.
They Take Their Business Seriously
Entrepreneurs who have sustainable businesses do not run their business like a hobby working on it only when inspiration strikes. They create a schedule based on their business plans and stick to it day after day, always looking ahead to the future. They believe in their own abilities and run their business as a serious business and do not waiver. Due to the fact that they take their business seriously, other people do too.
They Know Their Audience
A serious and long term business owner will continue research about their audience on a regular basis. Like technology, audience's change. For example, big businesses like Unilever which creates personal care products. Over the years they have had to change how they market to their audience. If they marked these products today the way they did just 20 years ago they would lose a big share of the market because the old ads might actually offend their audience today.
They Understand the Importance Branding
Marketing properly requires an understanding of branding. Creating a known cohesive brand in all marketing channels, online and offline is the key to getting a larger share of the market. The larger share of the market you can convert to customers the longer your business will be around. To do this, taking the things you know from audience and competition research and promoting benefits over features of any product or service will endear you to your customers.
They Develop Plans for the Future
A sustainable business owner cannot be afraid of change. Entrepreneurship requires understanding that change is a constant. For example, if one is a Website developer, the tools from just 10 years ago are old hat. The smart entrepreneur stays up to date on the changes happening in their industry and makes plans to move with the changes now and in the future. A really good example of a successful business that has developed plans for the future and changed as technology has changed is Netflix. They have gone from distributing DVD movies through the mail, to streaming movies, to now becoming their own powerful network. Without a willingness to change as technology changes and customers' needs change, your business won't be around long.
They Invest in Their Business
Long-term entrepreneurs know that they must invest wisely in their business to earn money. They must pay for hosting for a real website, purchase a good auto-responder service,  use a good project management system, and buy the right software and more to ensure the success of their business. Trying to run your business without the tools you need wastes time and makes you look unprofessional to those whom you wish to work with.
They Build a Team and Network with Others
No CEO becomes successful for the long term on their own. No one is really self-made. People who are successful know how to surround themselves with other experts who can help them succeed. They know that they need to reach out to complementary professionals forming strategic partnerships to get to the next level. Working with contractors and joint venture partners is something all long-term business owners eventually need to do.
They Study and Develop Expertise
No one knows everything. Even if you're an expert in something today, if you don't keep informed about your industry you may end up being out of touch with the new technologies and facts affecting your niche. Chances are whatever you are doing today to earn a living will slowly change over time until it's fairly unrecognizable when you compare today to 20 years from now. Keep learning, take classes, read industry publications, and educate yourself so that you are the go to expert in your niche.
They Study their Competition
If you want to be in business for the long haul it's important that you keep apprised of what your competition is doing. Figure out who is selling and promoting to your audience and follow them, friend them, and associate with them on a regular basis so that you know what they're doing that is working, or not working, so that you can do even better.
They Are Available to Their Customer and Follow Up
Smart business owners who thrive during the ups and downs of any economy, the changes in technology, and the changing and growing needs and desires of their customers make sure to find time to follow up properly. Without following up, you're missing out on your best source of new sales, the customers you already have.
Finally, one last point is that long-term entrepreneurs never stop marketing and promoting themselves, their business and the people who help make them what they are. They keep going during busy times and show times.
Content Strategist | Content Writer | Virtual Assistant


With more than 20 years experience working from home in a variety of roles such as HTML Website Designer, Internet Marketer, Template Bender and Virtual Assistant, today Stephanie is an author and content strategist who organizes, plans, writes and implements content strategies for business owners through her business Barry Publishing.
Latest posts by Stephanie Watson (see all)