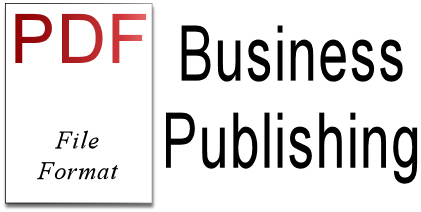 The PDF file format has become the publishing standard for most companies and businesses worldwide, particularly in the last decade and half – and with good reason.
Turning your documents into PDFs makes them immediately smaller, more mobile and generally easier to use. The versatility of the PDF is another aspect that makes it so perfect for business documents. This format enables you to deliver, share and store your business documents in an increasingly versatile and cost-effective manner, and it provides guarantees that the person to whom you are sending the PDF will receive a document that is universal and very easy to view, navigate, store, print and share.
If you are still not convinced that PDF is the most reliable and convenient format for all your business needs, here are five points that will provide some food for thought.
Stay Compatible
The best thing about PDF documents is that they always look the same for everyone. There is never any re-pagination or missing font issues to deal with, as is the case with most word processing documents. This is very important for business documents due to legal reasons, especially when dealing with contracts and agreements that must look exactly the same for all parties involved.
This is also important when dealing with application forms, tax returns, tender documents, invoices and things of that nature. PDFs ensure that the files sent to clients can be viewed across different computers and through various operating systems and platforms, without any change in the look and feel of the original document .
Become Versatile
The things that you can do with a PDF are virtually limitless. For example, you can make PDFs searchable, making them easier to navigate. So if you receive a long business document, you will be able to use the search function and find what you are looking for easily and quickly without having to read the entire document. PDF can also be magnified hundreds of times without losing any of its quality.
This is especially important when looking at visual aids like graphs and charts that might have a lot of small details and is essential when giving presentations. You'll never miss the fine print in a PDF, because you'll always be able to magnify it and see it. It is also the ideal format for storing and archiving documents. It is a self-contained and highly compressed medium that effectively manages bitmaps, vectors and text, which makes the PDF the perfect format for archiving and record keeping.
Protect Yourself
Documents are all potentially subject to manipulation and these types of things can be dangerous for any business. Fortunately, when using documents converted into PDF, they are at a significantly lower risk of being tampered with. PDFs offer 40-bit and 128-bit encryption, as well as password-restricted viewing, copying, and even printing. It also allows the application of watermarking to enable users to "digitally emboss" their documents with a unique watermark of their own that further protects all important business documents from being misused or tampered with.
Keep it Compact
The small file size of a PDF enables it to be easily share and store your business documents. The PDF masters what other file formats have not been able to do with compression and drastically reduces document size while preserving the document quality. Because of this, using PDFs significantly reduces costly bandwidth and storage issues. Converting graphics, spreadsheets and word processor documents to PDF reduces document size significantly, which adds up to real savings in expensive email server storage and bandwidth congestion. It also means significant time is being saved in retrieving emails from the server.
Save Money
In order to view a PDF, you don't have to buy any special type of program. You can pick from a variety of available free PDF Readers to download. Sending PDFs is like having an incredibly fast and reliable color fax machine within your computer that allows you to send high quality documents more effectively than ever. Since it is compatible with just about every computer, your days of printing out material are over – not only for distributing documents, but for archiving your documents as well.
Thanks to the PDF, document management has never being easier for businesses and advancements in PDF technology continue to work to the advantage of the businesses, big and small, that are constantly looking for versatility, convenience, reliability and security.