When did you last use a  Press Release?
If you're having trouble generating leads for your business, you want to make the most of every tool at your disposal. However, many businesses don't consider using the age-old tactic of sending out press releases to bring readers in. This may be because many believe it to be old fashioned.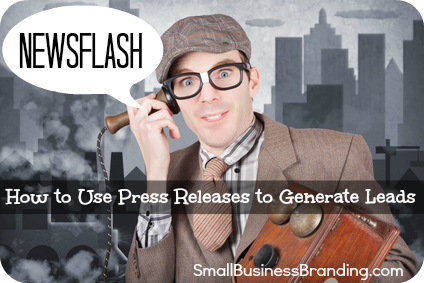 This may be true – press releases are positively ancient compared to some of the mediums we rely on these days – but it doesn't make them any less viable for generating leads. Here's how:
Online Exposure
 One thing many forget is that press releases aren't just for newspapers and magazines. They get put on websites, blogs, and wherever else the media has a presence. They get tweeted out and re-blogged and put on Facebook and even emailed to friends and family. There is huge online life potential for every press release that gets written.
This is why releases give small businesses such a huge boost in today's world. While big businesses can basically just throw money around to generate leads, small businesses have to be innovative and think outside the box. Since press releases can literally go around the world, they're a wonderful lead generation tool.
Also, it's not like those blog posts etc. just go away after initial interest dies down. They stick around, waiting for someone to search for the right thing on Google or Bing. It could be one, ten, or a hundred years from now, and someone can find the time you released your first product and wrote about it.
More Dynamic
Press releases have changed over the years. Releases printed in a newspaper are just articles that people read and potentially look up online later. However, online releases have a much longer shelf life, and can be much more dynamic in the way they're used.
If you send your press releases to media outlets that are more adapted to the digital world, you can embed videos, pictures, graphics, and even music in your press releases. This creates a more visually and engaging experience for readers that also shows off how "modern" your company is. They also show off better what your company is all about rather than just a stagnant article in the newspaper, potentially bringing in more leads than ever before.
Re-purposing

The information in the press release doesn't stop being interesting after it's published in the publication you sent it to. No matter how many readers that particular publication has there are still a ton of people who didn't see it. They still need a chance to enjoy the story of how your first product came out and blew your industry leaders away.
So why not re-purpose it? Turn the information into a series of blog posts, emails, or social media (Facebook, Twitter, Pinterest, whatever works) posts to generate even more leads. These can even be more direct as you can point them directly towards the product for sale on your website.
Have you had a very successful press release in the past?