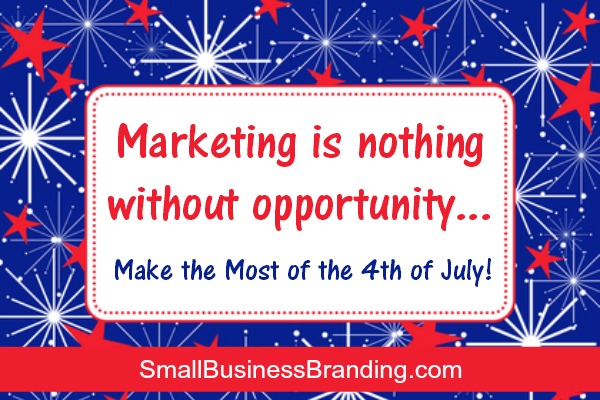 Marketing is nothing without opportunity. Every business — even the largest and most recognizable brands — are marketing at every chance they get, and holidays are one of the best ways to capitalize on a great opportunity. Everyone from big-box retailers like Best Buy to your local car dealership is known for having great sales on weekends surrounding Columbus Day, Labor Day, Memorial Day and the like. So, for the upcoming July 4th holiday, use it to your business' best advantage. Learn how you can capitalize on 4th of July merriment with these simple marketing incentives.
Many people associate July 4th with fireworks and barbecues, but there's more to it than that. This year especially, July 4th can be a great marketing opportunity because it's attached to a weekend; once the fireworks have ended, it's a great long weekend where people likely have the opportunity to "catch up" on things they've been meaning to do. Here are a few reasons why it can be beneficial to use a splashy incentive for the July 4th holiday:
Utilize the season
July 4th is the "official" beginning of summer. By creating a limited-time offer to encourage a customer to buy now, you can capitalize on 4th of July merriment and that early-summer momentum. Especially if the product or service that you're offering is something that can be tied to the summer months, let your customers know that the offer won't last forever so they need your product now in order to get the most use out of it during the summer that they can. If you miss that "window" of opportunity, the summer goes by too fast — by August 1st, retailers are advertising back-to-school sales and you can no longer use the summer as your incentive.
Social Media
Email and social media can be your best advertising technique when it comes to holidays, especially 4th of July. If your brand already has a solid social media following, use it to your advantage. It seems counter intuitive to assume that people will be trolling Facebook and Instagram when the days are long and outdoor activities are plentiful, but the "me-centric" culture that abounds on social media these days is your best asset. Everyone wants to show their friends just how much fun they're having… whether they're posting photos of their legs tanning on the beach, or "checking in" at some fun destination, they are broadcasting to the whole world what they're doing this summer — the flip side is that they also want to see where their friends are and what they're doing. That includes YOU! If you're having a July 4th sale or special event, share it on social media as far as you can reach. Include some beachy-looking photos to catch the user's eye (even if perhaps they're unrelated to what they're selling). Chances are high that lots of people won't be spending a holiday weekend watching TV or reading the paper, but they will be checking their social media accounts. It's a great time to increase your brand's social following, capitalize on 4th of July merriment, and activities by joining the party online.
Be Memorable
Have your brand do something unique. Having a July4th sale? Go the extra mile to bring customers into your store. The best thing you can do for your brand is to build customer loyalty that will last year-round. Throw a party — especially if your business is in the center of a town or walkable area, find out whether you can put on some music and perhaps set up a grill. If every customer who walks through the door is greeted with a free hot dog and soda, it will make the experience memorable and that customer is more likely to come back to you, rather than the big-box retailer, the next time around.
Be Patriotic
Capitalize on 4th of July merriment by being patriotic and showing some red, white, and blue. Americans love holidays where they can show their American pride. July 4th, Memorial Day and Labor Day are unique in that they are great times to really let a business show its all-American roots, and when people are most likely to be feeling that patriotic pull. Even if all that means is adding some red, white and blue to your storefront's décor. Whether it's a sign, a flag, or even some balloons, it's an easy way to put people in that patriotic, warm-hearted mindset. This is especially helpful when you have customers who really do prefer to support small businesses, but who will shop online or at the big-box retailers simply for convenience. When you do something, however small, to remind them that your brand is all-American, local and patriotic, it might make them go the extra mile to seek out your products or services in the future.
Relationship
Maintain the relationship. Depending on the nature of your business, maintaining the relationship with an existing customer by creating a method of post-sale follow-up could be a practice that you employ all year. If your business is small, but caters to higher-end products, following up after a July 4th (or any) sale is the perfect opportunity to build customer loyalty. As customers enter your store, encourage them to sign a guest book that includes their name, email address and phone number. Whether or not you close a sale at that time, a phone call the following week might be just the personal touch that the customer craves. If a sale was made, inquire as to how the customer is enjoying the product and if there's anything further that s/he needs. If you didn't close a sale, let the customer know that you're happy to answer questions about any of your products and that you always have new inventory becoming available.
Especially for the small business, what will keep you in business is building customer loyalty. In this society, where retail is ubiquitous and you can get almost anything you need online, your customers can find what they want with a click of a mouse. What will keep them coming to you, whether your business is online or brick and mortar, is the customer service experience and that little "something special" that draws them in.
July 4th is a great opportunity to capitalize on not just patriotism, but the whole feeling of summer. Set your business apart from the rest by using this holiday (and others) as an opportunity to do some "out-of-the-box" marketing.