If you are looking into starting a business whilst in college then you are in one of three positions. Either you have checked out of your studies, and are looking for something to kill your time whilst instead of dropping out. Either you have lots of spare time because you have made no friends, or you are short of cash and need to start a business.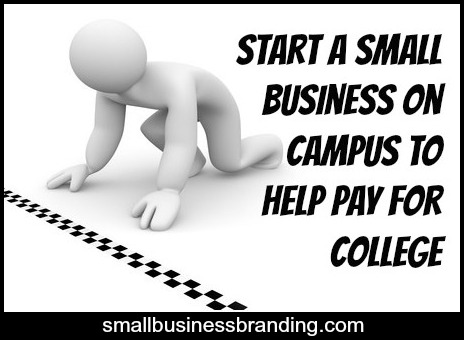 Whatever your reasons, here is how you start a small business on a college premises. The example used is very specific, but you can apply the process to lots of small businesses you may start on campus.
Start with your business idea
You can spend hours researching different ideas, or you can cook one up that you develop later– it is up to you. You best bet (as a small business starter) is to start a small business where it wouldn't be an absolute disaster if you failed. For example, a good one is selling Blu-Rays, because if you go bust then you still have a bunch of Blu-Rays you can keep and use (assuming you have a Blu-Ray player). Plus, if you sell secondhand Blu-Rays, then you can watch them before you sell them, so it's win-win.
Do not start a mini-business providing a service or selling products that you cannot use yourself. The 300 mini umbrellas from an online Chinese company may seem like a great investment, but what are you going to do with them when they do not sell? Don't start a car spraying service, because what are you going to do with the equipment when your business goes under? Your answer to that question may be to sell what you have left over, but you are going to make a bigger loss though selling your stock/equipment, than you are keeping them (seriously).
Now develop your idea into something that you can do in your dorm
Selling something is fairly easy. You could try selling clothes, and develop the idea so that you only sell full outfits; t hings such as a top, trousers and correct colors socks or tights. Otherwise, you could try selling shoes, or accessories. Consider if you want to sell new items, used items, or both.
What is going to make your products different from everyone else?
In this example, your selling point could be that you are selling outfits. Look at when people say, "Oh I love what she is wearing." They are often talking about the whole outfit. Many times a shirt may be very lack-luster, but looks amazing when paired with the right trousers. You can use this fact to sell full outfits.
Now source your stock according to your budget
Buying new clothing items is going to be expensive, so hit the second hand market stalls and yard/garage and car boot sales. Wait until near the end of the sale when the secondhand clothing stall seller has that desperate look in his or her eyes. Start negotiating for the best prices on a number of items. Don't forget you are looking for full outfits, so be ready to match items, or keep in mind what will go well with what you have bought already.
Buying from online wholesalers is a bad idea
So many times the online wholesalers are running a scam. There are so many people wanting suppliers, but the good ones are very closely guarded secret. It takes more digging than a few Google searches. Don't forget that when you look online for suppliers that everyone else does it too. Whatever you buy online, you can be sure to find it in massive numbers in shops in holiday spots, and on market stalls around the country.
Never pay to see suppliers' names. Some sites offer a service where you become a member and then they let you see the names of great suppliers. Some will show you supplier names, but give you no contact details until you pay for membership. All of these sites are scams. What self respecting supplier is going to allow someone to charge others in order to contact them?
Learn how to think like a businessperson
You need to start being more business minded in your dealings. Here is an example using the clothing idea. Buy 2nd hand clothing, find out the price to buy the item new. Buy the 2nd hand version, and charge 3 x amounts you bought it for. However, your sale price must still be no more than 50% of new-item price.
Here's a bit of math:
Used blouse = $5
Cost of a new blouse = $30
Your sale price = $15
Call clothes secondhand and not used
Learn how to market your goods using the correct verbiage to create the best impression. So for example, calling used clothing "Second hand" is far more customer friendly.
Make sure your accounting is correct and use it to run a better business
If you are selling on eBay then do not forget eBay fees, taxes, etc. Use your accounting to set future prices, and to set/know buying limits. A $2 profit may seem good, but your accounting forecasts may tell a different story.
For example, one blouse takes 2 hours to buy, clean, fix, photograph, and a further 30 mins to put onto eBay and adjust the advert to suit your trial and error tests. It sells and it takes you 30 mins to package and post it. That is three hours work, and after paypal fees, eBay fees, costs to buy the blouse (including travel/postage costs), you discover that you only made $2.20 for 3 hours work. To have a night out with your friends, you will need to sell 27 items and work 81 hours. Suddenly your $2.20 profit doesn't seem so great.
Never stop trying to improve your business
Every day you must do something to work on your business. Every day you must do work on your business, but also do something to improve your business or business plan. This can be anything from thinking up a new selling tag line, to buying a tape dispenser to make wrapping easier.