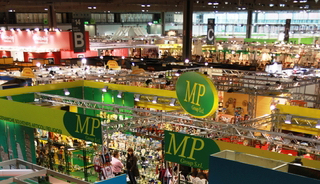 As a small business you understand the need for running tight budgets and keeping marketing costs under control. At first thought, exhibitions and fairs may seem an extravagant activity, but executed well, with the right preparation and follow up, they can provide a great return on investment and help to take your business to the next level.
So, what can you hope to get out of an exhibition or fair?
Lead generation: Perhaps the most obvious of outcomes, exhibitions are a great way of sourcing new leads for businesses, which, once followed up after the show, will hopefully convert into sales and ultimately profits.

New sales: Depending on the type of exhibition or trade show and the service/products that you offer, your goal may be to make sales at the actual exhibitions or fairs themselves. If you have the right product and approach, you can capitalise on the fact that the venue is filled with your core market.
Generate brand awareness: Full of your potential customers, exhibitions give you the opportunity to influence as many people as possible and build your brand with your target market.
Launch new product lines: Fairs and exhibitions are perfect for showcasing new product lines or services and allow you to sell to new customers as well as tapping into your existing customer base by upselling or cross selling.
Access to the media: Journalists are always looking for new industry trends and use exhibitions and fairs as a key research tool. By preparing a press information pack to give to the media (including a press release, photos, product or service information and contacts) you will give yourself a greater chance of some free publicity.
The opportunities are there for the taking, however, it's no good turning up at an exhibition or fair without the right preparation and forethought. To get the most out of your investment there are several tips you should follow…
Tell the world!: Use your prospect and contacts list to notify everyone that you know that you will be attending the exhibition and where they will be able to find you inside the venue. Using email and social networking are cheap and easy ways of doing this.
Make your exhibition stand eye-catching: At an exhibition or fair, visibility is vital and there are certain elements you should consider:
The design of your exhibition stand: The design of your exhibition stand needs to ensure that you get noticed for all the right reasons. It must convey your brand and product/service clearly and concisely and your message should be visible from across the hall. Also make sure that it appeals to your target audience by using eye-catching graphics and text. Lighting is also an important but sometimes forgotten element. At a basic level, the lighting should be sufficient enough for visitors to read your displays but on a deeper level it can be used to create an atmosphere or highlight certain parts of your stand.
Offer an 'experience': Once you've enticed people onto your stand, it is a good idea to offer visitors a real hands-on approach so that they can see, handle, interact with and experience your product or service for themselves.
Your people are your brand: Ensure that your staff running the exhibition stand know why they are there, what the overall goals are and how to deal with potential questions. They can be a key differentiator between you and your competitors and so body language and behavior on the stand are also critical, so make sure there are lots of eye contact and smiles and no mobile phones, eating or crossed arms.
Use your time well: The old adage 'time is money' is never truer than at exhibitions or fairs. They generally only last for a day or two and in order to achieve as many leads or sales as possible you simply don't have time for a lengthy chat with a prospect or customer. Make sure you get all the details you need from each visitor and then politely move on.
Follow up promptly: After the exhibition is over it is essential to follow up on all the leads you have gathered as soon as possible. This will keep you at the forefront of your prospects/customers' minds and show that you are keen to do business with them.
Resource:
If you'd like to find out more about exhibition banner stands you may do so here. They supply a wide range of portable and fixed banner stands to help guarantee a successful exhibition experience as well as buying guides to help you choose the items that are right for you.
Latest posts by Thomas O'Rourke
(see all)