Let's face it.  Everyone is envious of Apple right now.  They were the king of cool with the iPod.  But then they got out cooled.  By the iPhone.
Who doesn't want to be the iPod or iPhone of their industry?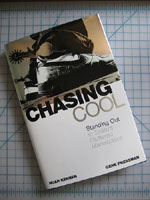 But that's the rub.  The more you chase cool, the less likely you are to catch it.  That's the premise of the book Chasing Cool: Standing Out in Today's Cluttered Marketplace by Noah Kerner and Gene Pressman.  The book interviews brand visionaries about how they discovered, invented or in some cases, tripped over cool.
Here are a few cool deal breakers:
Decisions by committee
Trying to be like someone else
How many of those are you guilt of?
The book is an interesting read.  While it gets you fired up, wanting to be cool — my beef with the authors would be that 90% of their examples are retail, consumer products.  It's a lot easier to be cool selling an iPod than it is being an accountant.
That doesn't  make it a bad read.  Just fair warning. There's still plenty of inspirational stories and solid reminders of how we can better invite cool into our companies.  But I would have liked it if they went one step further and helped more with the "how to" section.
Drew McLellan gets branding and marketing and he really wants you to get it too. So for the past 20+ years, he's told stories, asked questions, and milked sacred cows. All to help clients discover their brand so they can create authentic love affairs with their customers.Considered a national branding expert, Drew is a highly sought after speaker and has given about a zillion presentations at national conferences, key note addresses, training for his peers in the profession, college students and even his daughter's tenth grade class.Over the years, Drew has lent his expertise to clients like Nabisco, IAMS pet foods, Kraft Foods, Meredith Publishing, John Deere, Iowa Health System, Make-A-Wish, University of Central Florida, SkiDoo and a wide array of others.Today, he and his
agency
work primarily with BtoB clients who recognize the power of knowing and living your own story.
Blog: http://www.DrewsMarketingMinute.com
E-mail:
[email protected]
Twitter:http://www.twitter.com/drewmclellan
Facebook:Drew McLellan
Latest posts by Drew McLellan (see all)