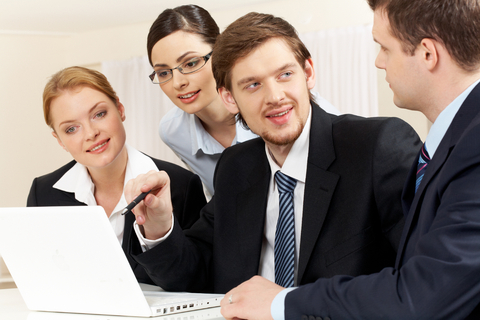 Small business owners frequently believe that their particular industry or field is far too specialised to benefit from project management software. However, project management software can be enormously beneficial for small business, despite its perceived high cost. This is because the software, once properly configured, enables small business owners to quickly manage large quantities of data that would otherwise take significantly longer not only to process, but to frame in context.
As an example, any small business must invariably generate revenue statements detailing the progress in a particular quarter or year. By having project management software already in place, a slew of potentially difficult to find information is contained in one place. For a small manufacturing firm, the number of hours spent on a particular project or process is readily accessible, and often broken down by employee. Those employees who thrive at a particular task or process can be quickly identified; likewise, those who are not thriving in one area can be moved to another project where they can potentially contribute far more.
Departments that are chronically behind or understaffed also are much easier to evaluate with project management software than by using a traditional survey. This is because numbers convey factual data in a far more unsparing manner. Project managers frequently are consumed with the details of day to day operations, and are unable to provide more than a hastily arranged version of the overall progress of their department. Project management software provides answers when they are needed, in a form that is easily understood.
Although some forms of project management software can seem somewhat expensive, especially on the lean budget of a small business, they ultimately generate far more in profit and efficiency than the initial expenditure. This is because they can help a small business owner understand precisely what he is spending his money on. Overhead costs, profits, losses, and other forms of cash flow become immediately obvious when analyzed with the aid of software.
Additionally, project management software enables the automation of certain time-consuming tasks, such as the arrangement of meetings, the cataloguing of ideas, and other essential but occasionally tedious duties. Project managers are freed from having to micro-manage the progress of their particular task, and can instead focus on incorporating new procedures or innovative methods of motivating the workforce. Frequently, the difference between a successful, on-deadline project and a meandering, financially disastrous one is how effectively the project manager is able to guide his team. Shepherding a large project in a time-efficient manner requires a streamlined and clearly actionable process, which project management software can easily provide.
Additionally, project management software enables different levels of permission and access controls, which correspondingly allow employees to involve themselves in the project without compromising any levels of information privilege. This engenders a greater sense of participation, and correspondingly boosts enthusiasm across the board. In this way, project management software is a great aid to small business by forming a more integrated community and regulated exchange of information.
Resource:
IRIS Project Solutions has more info about project management software.
Latest posts by Edward Langley
(see all)