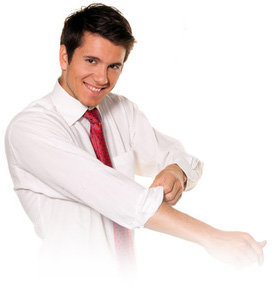 The passing of Steve Jobs this week got me thinking of another iconic American CEO who was also loved by consumers the world over.
Before I reveal his identity, I have to say that Steve Jobs has been compared (this week) to Thomas Edison and Henry Ford, in their contributions to our modern lifestyle.
Steve Jobs I believe, surpasses these gentlemen because of a personal connection he had with his audience – the consumer. How many deceased CEO's can you name that have had the general public laying wreaths at their doors? Not only do their customers not mourn their passing, they really aren't aware they even passed. When the day comes that Bill Gates meets his maker, will he see the same outpouring of love? I wonder. For all that critics say about consumerism, you have to admit, even they were silenced this week. This is the epitome of a super brand, where both the corporate brand and the personal brand of the visionary are perfectly aligned with their buying audience.
The other American icon that I believe shares the same love that Steve Jobs has, is Walt Disney. He was an independent thinker, and he developed amazing things, ignoring those who thought he was nuts. Walt Disney's passing was met with the same level of sadness and admiration for his achievements. We need visionaries like Walt and Steve to help us rise about the mediocre.
Take a look at your own brand. If you passed away tonight, would your customers miss you? Could they replace you easily? If so, what do you have to do to build your brand into something iconic with your stakeholders? Does your brand relationship change lives? Your brand doesn't have to be as massive as Steve, or Walt's to resonate with stake holders. You only have to make your passion contagious and provide an experience that makes it a pleasure to interact with you.
Maybe the next Steve Jobs or Walt Disney is you!
For more than 30 years, I have worked with hundreds of successful small businesses by helping them develop unique brand positioning strategies that differentiates them from their competition. I appreciate working with companies who see the value of going beyond mere slogans and have a desire to sell from compelling positions. I consult predominantly with businesses facilitating my proprietary branding process. This branding process effectively focuses a company's brand delivering a positioning strategy that can be taken to their marketplace.

I have international speaking experience and am the author of "101 Branding Tips," Practical advice for your brand that you can use today. I'm also a "expert panellist" with Bob Proctor (from The Secret)'s Matrixx Events in Toronto.

I have been interviewed in all media and I also blog extensively and uses the digital realm on the web to connect and promote my services world-wide.

I have international speaking experience including a recent event in Prague, in the Czech Republic and is the author of "101 Branding Tips," Practical advice for your brand that you can use today, the book is available on Amazon.com and the Amazon Kindle store.

My clients are from Canada, The United States, Ukraine, India, United Arab Emirates and Tanzania.

I recently facilitated a workshop in San Diego aimed at teaching Graphic Design companies how to build brands for their customers.