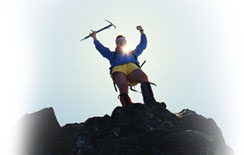 It's time your brand got out from behind that inspiring advertising slogan and actually stand for something. A large part (and I would argue) the most important part of your brand is your positioning. Where can your brand take the high ground? What is your brand leading in? Are you the only something? Positioning is absolutely based on differentiation. I hear countless companies state things that don't really make them different, but actually make them blend in. For instance, "our people make the difference." Sure, you and a thousand other companies.
Or how about "we excel in service." If your competitors are still around, perhaps they do as well.
Taking a position based on differentiation takes moxy. Not only does it take guts to take the high ground, it takes commitment to own it. By owning it, I mean that you have to live the brand promise in the position you take. If you say you will deliver that pizza in 30 minutes or it's free, then you had better do exactly that. Your customers have no appetite for false claims. They will eat your brand for breakfast if you don't deliver. Deliver and they will love you and reward you.
For your brand position to work it has to resonate with your customers. It has to speak to them. One of my customers, Suntrition, whose brand positioning is: "Leaders in small-batch, oral-dose manufacturing," speaks directly to their target audience. Small suppliers in the nutraceutical products industry. While all of their competitors are seeking the large contracts and giving short -shrift to the little guys, Suntrition has chosen to specialize in small batch production. They are laying claim to this high ground. It's working. At recent industry B2B trade shows, small batch suppliers flocked to their booth refreshed that someone actually values their business and is actively seeking it. They not only came home with hot leads, they are setting sales records.
The difference between a slogan and a positioning statement is that the slogan inspires and the position resonates and sells. It's no reason that sales staff and management are rejuvenated when they actually develop their differentiator and take their branding more seriously. Now marketing truly has a story to tell.
For more than 30 years, I have worked with hundreds of successful small businesses by helping them develop unique brand positioning strategies that differentiates them from their competition. I appreciate working with companies who see the value of going beyond mere slogans and have a desire to sell from compelling positions. I consult predominantly with businesses facilitating my proprietary branding process. This branding process effectively focuses a company's brand delivering a positioning strategy that can be taken to their marketplace.

I have international speaking experience and am the author of "101 Branding Tips," Practical advice for your brand that you can use today. I'm also a "expert panellist" with Bob Proctor (from The Secret)'s Matrixx Events in Toronto.

I have been interviewed in all media and I also blog extensively and uses the digital realm on the web to connect and promote my services world-wide.

I have international speaking experience including a recent event in Prague, in the Czech Republic and is the author of "101 Branding Tips," Practical advice for your brand that you can use today, the book is available on Amazon.com and the Amazon Kindle store.

My clients are from Canada, The United States, Ukraine, India, United Arab Emirates and Tanzania.

I recently facilitated a workshop in San Diego aimed at teaching Graphic Design companies how to build brands for their customers.