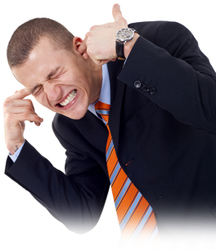 If you're the sort of visionary who regularly doesn't hear things like – "We can't do that!" or "It'll never work." or "Right now's not the time." or "That's beyond our scope." – you're just the sort of person who's selective hearing makes you great!
It's not easy leading a company when you're surrounded by "practical" or "realistic" conformists. The only way to live your dream and passion is to have one in the first place. Most businesses allow the economy to happen to them, rather than creating they're own. For those nay-sayers, it's not that they're not listening, it's more to the fact that they're not saying anything that's going to get you ahead.
The time to do anything is right now! Timing is never going to be perfect, barriers are going to spring up at anytime. The economy is going to soar and nose-dive and soar at will. Only the deaf will survive. The hearing impaired are those who listen to their passions and leap the barriers. Some may say this is fool-hardy and not realistic. With those comments I only see barriers, not vision.
I am surrounded by visionaries, by choice. You know the type – people who refuse to quit and are perpetually positive. We accept that bad things happen to people, but that there is always a way out. It's never easy or short-term. You're no doubt working for the hardest boss you've ever had – YOURSELF.
This article was inspired by a gentleman who owns a tooling and manufacturing company in the plastics industry – Cavalier Tool. I did him a favour and dropped by to explain blogging. He in return took me on a tour of his facility and inspired me with his infectious attitude. When ever he came across deficiencies in the system he took them as challenges to improve. He too is "hearing impaired" and refused to be good and opted for great.
It's happening every day at large companies and small. As Disney once said, "If you can imagine it, you can do it."
Now that's something worth hearing.
For more than 30 years, I have worked with hundreds of successful small businesses by helping them develop unique brand positioning strategies that differentiates them from their competition. I appreciate working with companies who see the value of going beyond mere slogans and have a desire to sell from compelling positions. I consult predominantly with businesses facilitating my proprietary branding process. This branding process effectively focuses a company's brand delivering a positioning strategy that can be taken to their marketplace.

I have international speaking experience and am the author of "101 Branding Tips," Practical advice for your brand that you can use today. I'm also a "expert panellist" with Bob Proctor (from The Secret)'s Matrixx Events in Toronto.

I have been interviewed in all media and I also blog extensively and uses the digital realm on the web to connect and promote my services world-wide.

I have international speaking experience including a recent event in Prague, in the Czech Republic and is the author of "101 Branding Tips," Practical advice for your brand that you can use today, the book is available on Amazon.com and the Amazon Kindle store.

My clients are from Canada, The United States, Ukraine, India, United Arab Emirates and Tanzania.

I recently facilitated a workshop in San Diego aimed at teaching Graphic Design companies how to build brands for their customers.