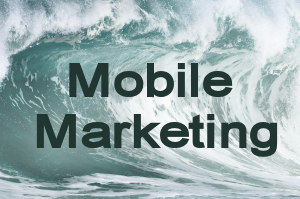 As the world becomes increasingly reliant on smart phones and instant information, business owners will need to direct more of their attention to mobile marketing as a means of reaching their target market. With useful search results and actionable business intelligence, mobile marketing is going to annihilate other marketing methods that have been around for far longer.
Why will mobile marketing overtake other popular marketing strategies? Here are a few facts to help explain why marketing to mobile customers is so important to your business.
1. Mobile Marketing is more effective than any other marketing method ever. For starters, people have their smart phones with them all the time and say they are reachable all the time. 91% of people have their mobile phones with arms-reach 24 hours a day, 7 days a week. Is there any other marketing method that provides access to targets 91% of the time? No.
2. Mobile coupon redemption rates are significantly higher (10 times higher) than standard coupon redemption rates (Source: Borrell Associates). Additional studies show that 90% of mobile searchers take action, 70% take action within an hour (Source: Google).
3. Mobile users don't want to miss out just because they are out and about. They don't use their mobile phones to do research. They use their mobile phones to buy. Over half of mobile searches lead to purchase (Source: Google). Your mobile customers are the ones who want to snap up your great deals.
4. Mobile marketing is more targeted than any other advertising method. You combine the knowledge of online marketing (cookies, past sites visited and history) with location. Mobile marketing will become more specific, more targeted, more immediate and more powerful than it is even today.
Estimates show that by 2016 mobile marketing will account for 15.2 percent of global online ad spend to become a 22.4 billion dollar piece of the marketing pie. Experts believe that between 60% and 70% of Americans will have smartphones by 2016. The mobile audience will become increasingly savvy, increasingly focused and increasingly ready to buy immediately.
For many business owners, the mobile marketing tsunami is just beginning and the winds of profitable change are starting to sweep through. What do you have planned to stay on top of the growing wave of mobile marketing?
Latest posts by Jason Wells
(see all)