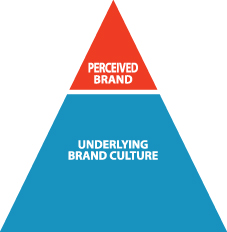 I recently sat through a lecture from Vancho Cirovski from Peak Consulting – a culture specialist for sports organizations. The topic was 'Leadership Culture.' It was a fascinating discussion and it got me thinking about how it relates to branding. Since my take on branding positions a business as a leader, Vancho's perspective on leadership culture particularly hit home with me. His comments on authenticity and genuine leadership are the foundation of every successful brand.
Imagine identifying an organization's true influencers. These individuals are not always the obvious ones. They are none the less talents that must be nurtured and allowed to blossom. A major challenge to a brand leading and being successful in the marketplace is staying true to the positioning and that takes powerful leadership. This is often quite a challenge to a business's leadership. They must absolutely believe in their positioning. The company's leaders have to possess a culture that embraces their difference and has the ability to grow from it. Positioning based on a differentiation strategy establishes the company as a leader in their category. That claim can't be simply advertising spin but a genuine claim to greatness. It is not enough to simply say you are the leader, but the brand must be able to live up to it. The supporting culture must be such, that it supports and drives the leadership position. Anything less and the brand will implode on itself.
The underlying culture is key to sustaining a long term benefit from its positioning. You would stand to benefit immensely if you are able to identify individuals and behaviors that support the brand positioning. Imagine the effectiveness in rolling out the positioning among employees for instance if you could positively identify who among them have leadership skills that would qualify them to be a best choice to be on the branding team. That individual would be key in influencing their peers. Encouraging leadership within the corporate culture will absolutely support the brand leadership and by extention the brand itself.
If the positioning was merely spin, the brand would quickly unravel as there would be no foundation on which to grow. Effective communication throughout the company when done strategically allows the leaders to be more confident that the organization is aligned with the brand.
From my experience leadership of the brand and its supporting leadership culture are the two underlying components of any successful re-launch of a brand. One feeds on the other, culminating in a powerful message that resonates with the audience.
In closing, the makeup of your brand's corporate culture determines if it has the moxy to support a leadership brand. Discovering deficiencies early will provide you the impetus to correct a cultural wrong and allow you to embrace the true leaders within your brand culture. Only this will ensure future success
For more than 30 years, I have worked with hundreds of successful small businesses by helping them develop unique brand positioning strategies that differentiates them from their competition. I appreciate working with companies who see the value of going beyond mere slogans and have a desire to sell from compelling positions. I consult predominantly with businesses facilitating my proprietary branding process. This branding process effectively focuses a company's brand delivering a positioning strategy that can be taken to their marketplace.

I have international speaking experience and am the author of "101 Branding Tips," Practical advice for your brand that you can use today. I'm also a "expert panellist" with Bob Proctor (from The Secret)'s Matrixx Events in Toronto.

I have been interviewed in all media and I also blog extensively and uses the digital realm on the web to connect and promote my services world-wide.

I have international speaking experience including a recent event in Prague, in the Czech Republic and is the author of "101 Branding Tips," Practical advice for your brand that you can use today, the book is available on Amazon.com and the Amazon Kindle store.

My clients are from Canada, The United States, Ukraine, India, United Arab Emirates and Tanzania.

I recently facilitated a workshop in San Diego aimed at teaching Graphic Design companies how to build brands for their customers.