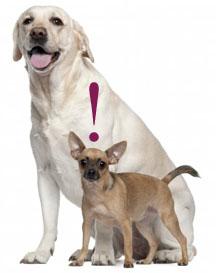 I ran into an acquaintance yesterday and we got to talking about business. He made the comment, "It's important to look big – don't you think?"
It's an interesting question. In our culture we equate big with success. Big houses, big cars and trucks, big business, big names etc. I remember when the the web finally took off, one thing that stood out for me, was the statement that the web was the great equalizer. Now anybody could "look" as big as they wanted and nobody would be the wiser. Now you don't need the expense of bricks and mortar prove your worth. Now you just have to look big. Image is said to be everything.
I think my friend's comment is a little off. I don't think it harms anyone to look big, but the bottom line is to behave correctly in a big way. If a potential customer is attracted to your front door, once they cross the threshold, they will quickly see your worth. This harkens back to the truth in your brand. A brand can only thrive if it lives up to strong brand values. It is not enough to look big but your brand must walk the walk.
We as a society enjoy associating ourselves with success. The goal is inspirational. Your foundation must be sound, whether big or small. The important word in the comment was – look. Your brand must have substance. It must be more than an impression. To benefit from a strong brand it is more important to be big on strong values, big on personality and image. It is also fantastic to have a positive outlook. To be the best is to lead – in a big way.
For more than 30 years, I have worked with hundreds of successful small businesses by helping them develop unique brand positioning strategies that differentiates them from their competition. I appreciate working with companies who see the value of going beyond mere slogans and have a desire to sell from compelling positions. I consult predominantly with businesses facilitating my proprietary branding process. This branding process effectively focuses a company's brand delivering a positioning strategy that can be taken to their marketplace.

I have international speaking experience and am the author of "101 Branding Tips," Practical advice for your brand that you can use today. I'm also a "expert panellist" with Bob Proctor (from The Secret)'s Matrixx Events in Toronto.

I have been interviewed in all media and I also blog extensively and uses the digital realm on the web to connect and promote my services world-wide.

I have international speaking experience including a recent event in Prague, in the Czech Republic and is the author of "101 Branding Tips," Practical advice for your brand that you can use today, the book is available on Amazon.com and the Amazon Kindle store.

My clients are from Canada, The United States, Ukraine, India, United Arab Emirates and Tanzania.

I recently facilitated a workshop in San Diego aimed at teaching Graphic Design companies how to build brands for their customers.