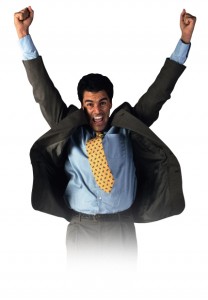 Return on investment or ROI can be realized in any number of ways. As a starter, one good way is to have a look at the brand as it sits today – before the branding process. What ever that perception is, it's the reality of the brand. Then when the process is complete – maybe six months to a year out, evaluate the perception again and see what the difference is. Any positive bump contributes the brand's ROI.
A lot of companies headed by boomers are looking at the future and their place in it. They are using branding to improve the position and appearance of the company as a part of their succession plans. Whether they are passing it along or selling, branding helps put the brand in a great and positive position. I have client right now who is looking to retire. Branding is helping the firm continue to strengthen its influence. New players brought in don't have the connections that the past owner has and branding is helping position their brand to build on their other strengths.
Effective positioning allows the company to absolutely differentiate themselves. The positioning, changes the conversation in their category with a powerful strategy that draws new business their way.
Sometimes a goal to initiate branding is to increase awareness. Companies find themselves lost in the clutter. Nobody really knows what they're up to. Out of sight – out of business.
Many business owners want to know what the deliverables are. That's part of their terminology. Branding delivers on the branding values – which are the foundation of the brand. Personality which uncovers deficiencies and opportunities. Positioning which makes them a leader. Brand standards keeps the visual part of brand in line and consistent and a large one being we will be talking with their customers. I've found business owners to drool over the prospect of getting customers input on their brand.
ROI comes in many forms, not the least being the ability to resonate with customers bringing new business to the door.
For more than 30 years, I have worked with hundreds of successful small businesses by helping them develop unique brand positioning strategies that differentiates them from their competition. I appreciate working with companies who see the value of going beyond mere slogans and have a desire to sell from compelling positions. I consult predominantly with businesses facilitating my proprietary branding process. This branding process effectively focuses a company's brand delivering a positioning strategy that can be taken to their marketplace.

I have international speaking experience and am the author of "101 Branding Tips," Practical advice for your brand that you can use today. I'm also a "expert panellist" with Bob Proctor (from The Secret)'s Matrixx Events in Toronto.

I have been interviewed in all media and I also blog extensively and uses the digital realm on the web to connect and promote my services world-wide.

I have international speaking experience including a recent event in Prague, in the Czech Republic and is the author of "101 Branding Tips," Practical advice for your brand that you can use today, the book is available on Amazon.com and the Amazon Kindle store.

My clients are from Canada, The United States, Ukraine, India, United Arab Emirates and Tanzania.

I recently facilitated a workshop in San Diego aimed at teaching Graphic Design companies how to build brands for their customers.