If you're out there selling something – stop it right now!
Stop selling and start branding. Your brand has a story to tell. Educate your buyer so they have all the knowledge they need to make an intelligent decision. If you start selling, they'll just roll their eyes and try to get away from you. They won't trust you. Find out where their anxiety lies, and show them a way out with knowledge. Encourage them to compare. You're approach will be refreshing to what they see.
I take myself as an example. I position myself as the branding expert. I have an 8 page brochure that educate's my customer on "How to give their brand a boost." The whole point is to help them position their company as the first choice (of their buyer) rather than just more of the same.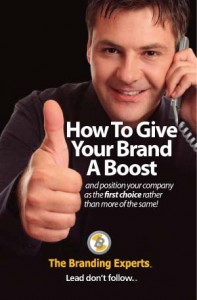 You often hear that people don't like to read much anymore. It's not that they don't like to read, it's more that they don't like to read copy that benefits you more than them. Give them information that makes you the first choice. You have to show your confidence and give away information that empowers your buyer.
Branding as an empowering tool draws to you customers who also value knowledge. It drives away buyers who fixate on price alone. These are not the customers you can grow on. You've heard of "price wars," well this is a battle that only deep pockets can win. If that isn't you, then it's time to change the game to one of an intelligence strategy.
Don't concern yourself if the competition starts to copy your model. That means they have their eyes off the ball and squarely on what ever it is you're doing. You can't control them, so keep your brand out front. Their ignorance can only help you.
It's like I always say: "Lead don't follow."
For more than 30 years, I have worked with hundreds of successful small businesses by helping them develop unique brand positioning strategies that differentiates them from their competition. I appreciate working with companies who see the value of going beyond mere slogans and have a desire to sell from compelling positions. I consult predominantly with businesses facilitating my proprietary branding process. This branding process effectively focuses a company's brand delivering a positioning strategy that can be taken to their marketplace.

I have international speaking experience and am the author of "101 Branding Tips," Practical advice for your brand that you can use today. I'm also a "expert panellist" with Bob Proctor (from The Secret)'s Matrixx Events in Toronto.

I have been interviewed in all media and I also blog extensively and uses the digital realm on the web to connect and promote my services world-wide.

I have international speaking experience including a recent event in Prague, in the Czech Republic and is the author of "101 Branding Tips," Practical advice for your brand that you can use today, the book is available on Amazon.com and the Amazon Kindle store.

My clients are from Canada, The United States, Ukraine, India, United Arab Emirates and Tanzania.

I recently facilitated a workshop in San Diego aimed at teaching Graphic Design companies how to build brands for their customers.