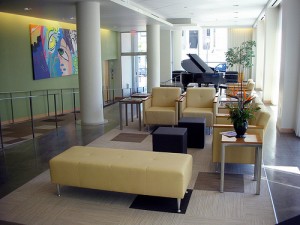 You know the saying, "First impressions are everything"? Not only is this true for people, it's true for office spaces as well. For a small business, making a good first impression with customers and clients starts with a comfortable and relaxing reception area.
A natural environment
Few things are more relaxing than being connected with nature. While you can't get the full experience of nature from an office, you can mimic it by incorporating elements from nature in your lobby. Find plants that are relatively inexpensive and easy to maintain. Bonus points if you get plants that also improve air quality.
Calming features
Another soothing addition to the waiting room is a small pond or fountain. The sound of running water is relaxing, and if you put goldfish or koi fish in a pond, visitors can spend time watching fish glide through the water. Dirty water, on the other hand, has the opposite effect, so clean out the pond regularly and use a good aerator pump to filter the water.
Personal touches
Sure, paintings and other decorations are nice, but personalizing a reception area shows guests that you value your company's culture. Take a company picture and hang it in the main lobby for visitors to see. Ask employees to contribute something artsy for the waiting room, whether it's a piece of art they've made themselves or their favorite artwork.
Fresh and clean
It's important that guests spend time waiting in a room that's clean and smells nice. Make sure the lobby is thoroughly cleaned once a day, or more often if you have multiple visitors each day. Focus on the floors, chairs, tabletops and organizing the front desk. Use an air freshener that emits a pleasant — but not overpowering — scent.
Color-coding
It's a common theory that color affects people's moods. Use calming and inspirational colors in your waiting room. Green and blue typically have a calming effect, whereas red can evoke anger and excitement. If you want to inspire creativity and happiness, make use of yellow and orange.
Comfortable furnishings
Making clients sit on hard chairs while they're waiting isn't going to encourage them to come back. Provide couches or padded chairs to ensure that guests are comfortable while they wait. A special touch could be placing drinks or snacks in the lobby, to show your appreciation for your clients.
Entertainment
You should never make visitors wait very long, but in case they do, provide some sort of entertainment while they're there. Magazines and TVs usually do the trick, but providing other means of amusement is a good idea, too. Allow clients to get a glimpse of the company culture by putting a photo album in the lobby that contains snapshots of employees on a special outing or company event.
Sprucing-up your lobby can create pleasant first impressions for visitors to your office. But every business is different, so incorporate unique ways to make a first-time visitor's experience at your company enjoyable.