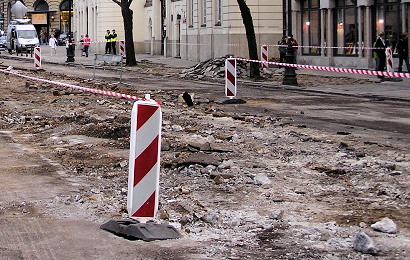 The long road of the recession is strewn with casualties, most of which are small businesses unable to successfully navigate increasingly hazardous terrain. And yet, while potholes and pitfalls still loom ahead, the economic downturn has presented many businesses with unique opportunities for growth, opportunities which often remain unrecognized. With this in mind, here are 5 proven strategies which, if properly implemented, could help a majority of small businesses not only survive but thrive in a downward economy.
1. Flexibility: Although the upside of an economic downturn may be a "thinning of the herd", in terms of your direct competition, keep in mind that those who survive will up their game in terms of retaining and gaining new customers. As a result, the ability to revise and adopt fundamental business practices to better meet the changing needs of customers is critical. If your company is service oriented, strive to provide that service in the most effective and efficient way possible. Product based companies should seek to structure and streamline their delivery and support systems to provide an optimal buying experience for their customers.
2. Effective Hiring: While the downward economy has dramatically deepened the pool of prospective employees, this will only work to the advantage of those businesses with the most effective hiring practices. According to corporate business coach Janis P. Whitaker, author of the book Interviewing by Example, "One of the major flaws of the corporate hiring process lies in the inability to effectively screen and identify qualified applicants during the interview." Being that the goal of any company looking to hire new employees is to find those with the skills to make the business more successful, emphasis should be placed upon certain criteria, including the applicant's ability to communicate effectively, demonstrate adaptability and show promise in fulfilling the needs of the company, not only today but next week and hopefully for years to come.
3. The Virtual Advantage: A direct result of the sluggish economy is that more businesses are realizing the benefits of virtual diversification. Although a virtual office is not always feasible or desirable, small business owners looking to cut current operating costs and facilitate cost-effective expansion can do so by hiring virtual help, such as assistants, accountants, social media managers, SEO specialists and advertising affiliates. Online meetings and webinars also offer several advantages over more structured and less spontaneous offline meetings; in particular, the ability to exchange vital information and implement new plans of action in a more timely and efficient manner. A company with the capability to respond and adapt to the demands of an ever changing marketplace stands a good chance of gaining and maintaining a strong competitive edge.
4. Be True to Your Brand: To compete in a downward economy it's critical for business owners to identify what they do best then focus all their energies on doing it better. In other words, find your specialty, then hone it and own it. During a downturn, the tendency for many small businesses is try to generate new revenue by offering add-on services that can ultimately dilute the brand, creating a "jack of all trades" perception. However, a business that concentrates on clearly defining and promoting what it is and what it does stands a greater chance of gaining greater credibility, visibility and acceptance in the marketplace, the net result being an increase in business and the ability to handle growth and expansion.
5. Parallel Partnering: One of the great advantages of a bad economy is that it forces the owners of businesses both large and small to find new and better ways to operate. Leveraging relationships with like-minded business owners and forming alliances with parallel or complimentary companies can be a very effective means of increasing efficiency and profitability. At the most basic level, many businesses can immediately benefit by sharing office space and equipment to reduce operating costs. But the greatest benefits come from the formation of synergistic business relationships. For example, a business that specializes in SEO and marketing through Social Media would benefit by forming alliances with other companies that offer related services that they do not, such as web design or pay-per-click advertising. Through the formation of such alliances, each company benefits by becoming more valuable to its respective customers via the ability to refer them to a trusted alliance company which will best meet their additional needs—thus creating a business scenario for which the overused term "win-win" applies in any economic climate.
Additional Resources: For more help on succeeding in today's economy visit Omniture.com where you can learn about many other strategies such as target marketing.
Latest posts by Tammy Livingston
(see all)