It is true there are plenty of other social networks that are very popular, many of them have specific targets and depending on your business, they could be more effective for you. At this time, Facebook is still a major destination for anyone online, around over the world. That's pretty hard to ignore.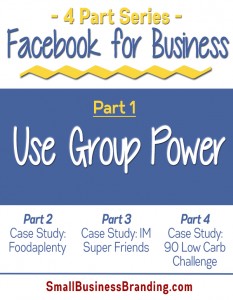 How to we make use for Facbook for business?
There's Facebook Pages, which apparently are no longer very effective.
There's Facebook advertising, however they are also getting stricter by the day on their advertising rules. It's not uncommon to hear about people having their ad accounts shut down for no reason.
Is there still a good way for a small businesses to reach their audience there?
The answer is – yes, with Facebook Groups.
I'm a member of a number of Facebook groups. Many are – sadly, a source of spam, not managed very well, or simply inactive. A handful of them, rise up to fill my activity stream constantly throughout the day.
Not only that, they invite me to get involved – which I do – further keeping the group's conversations in everyone's stream. I know who the group founders are, who the admins are, and who are the movers and shakers who contribute regularly.
While I've not kept track of the statistics, I tend to click on their blog posts and product recommendations. I've even purchased products from their recommendations more often than I care to admit. Sometimes, without very much convincing.
It's powerful, and knowing that – it got me thinking, why not start a Facebook Group for the business?
Great idea, but remember those groups I mentioned earlier? The last thing you need is a group with your brand on it, that is overrun with spam, out of control members, or… a ghost town. Neither one of those lend your business a positive brand image.
And as you can well imagine, nurturing a group takes time. Do we really have the time to start yet another thing? How do you make sure your returns exceed your resource investment? I had no idea, but I do know a few founders of very successful Facebook Groups. Why not ask them?
And That I did. What they had to share is pure gold.
Because the responses have been so good, I've decided to split them up into separate posts which we will publish over the next few days. We have a very nice mix of groups in different niches so you can see that groups can work for many businesses. Here are the links to the three case studies:
You'll learn:
How they grew their members
How they keep their groups clean and active
How their business benefits from the group
And more

Latest posts by Lynette Chandler
(see all)