So you took the experts' advice. You created lead magnets, set up opt-in pages to collect leads. You work hard to keep your emails out of the spam box, promotional tabs, and what have you.
Click throughs are dismal. Nobody responds when you try to engage them. Where did you go wrong?
Click to download this entire process to developing an engaged list
We've got you covered. Here are 29 simple steps you can start doing immediately to cultivate a more responsive list by creating a deeper relationship with your subscribers.
Phase 1: Improve Your Subject Lines
The subject line is undoubtedly the key component to every email you send. We will start here because if your emails aren't getting opened… well, it would hardly be possible to get anyone to respond let alone build your relationship. Start here:
Keep It Short
You'll find studies like this and reports, that say subject lines between 28 to 39 characters received the highest click throughs.
True or not, the thing you need to remember is this. __% of emails are opened on the phone. Here's a screenshot of a Gmail inbox on an Android phone. See how the subject lines are truncated on some?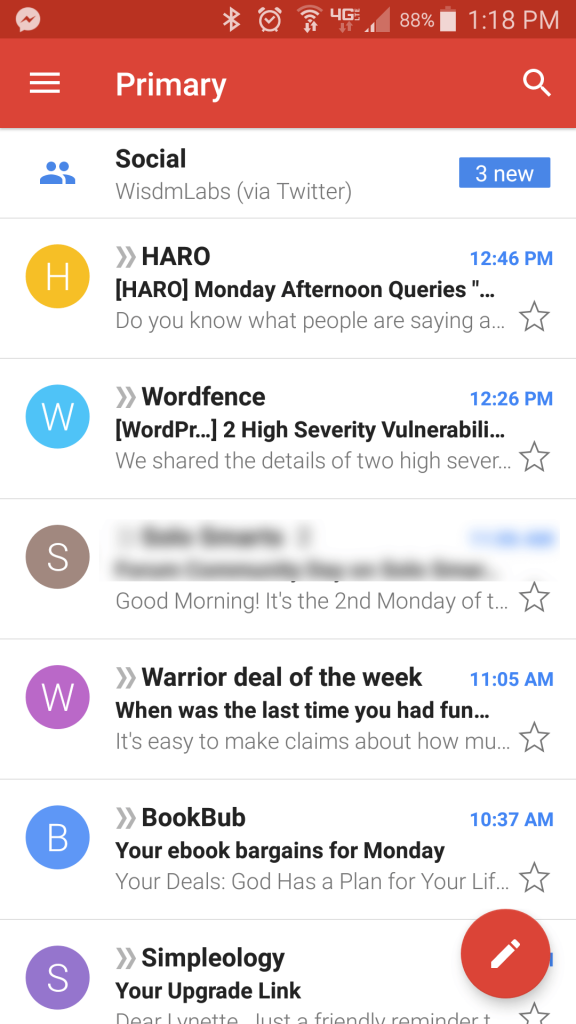 Try to keep it short enough it won't be cut off. Sometimes, having it cut off can be helpful especially when it ends with some form of curiosity or an ellipsis (or …). But you'd want to reign in the use of that technique because people have tired of them thanks to its wide use on social media.
Test and rewrite your subject lines for every email. Remember. The subject line's job. So focus on words that get people to open. Not to tell the whole story.
Avoid Trigger Words
Sometimes, your emails land in the spam box or other tabs, no matter how good your email is. This isn't a pass for you to get sloppy. It's certainly better to have more emails outside the spam box than all emails in there. Certain words tend to trigger filters so try keeping them out. Some examples are:
Free
Buy
Income
Earn
Sale
Urgent
Winner
$ or $$ or $$$$ – you get the idea
Excessive exclamation points!!!!
All caps
Utilize Numbers
Just like blog title, numbers as in lists often make compelling subject lines. Some examples:
5 Ways to grow sweeter strawberries
7 Easy exercises for a flat belly
Other examples as seen in my inbox:


Build In Some Urgency
If people do not read an email when they receive it, there's a good chance they won't at all. If you are truly emailing about time sensitive matter, mention it. You can say things like:
Ends tomorrow/tonight
Do this by Friday
48 hours only
More examples from the inbox:

Note, in addition to the deadline, they've also built in some social proof by telling subscribers this is a very popular offer at 4.5 stars.

Instead of a time limit, a limited quantity or number of seats can also be very effective. But you want to do this properly. If you're offering a digital product, make sure it make sense why there is a limit. Telling people you're running out of copies of your eBook is plain not possible and people will see through that.
I would also limit your urgent emails and time sensitive information. If every single email you send out is urgent, you will tire out your subscribers.
Be Clear About The Contents
Nothing is more annoying than opening up an email to find the content does not match the subject line. When you trick people into opening your email, your credibility plummets. It's OK to build in some curiosity but most times, stating exactly what's in the email up front is the best.
Study magazine and newspaper headlines. They often have limited space and need to "get to the point".
Utilize Current Events
Hot topics relevant to your subscribers make excellent subject lines. You don't have to make the email about the topic but look for ways to connect what everyone is talking about to what you want to put in front of your audience.
Lead With Benefits
Benefits are one of copywriting's most important rules. It applies to emails too. Inform people what's in it right from the get go so he will be eager to read the rest.

This subject line tells me I'll have a remedy for my ailing orchids with a household item I probably already have and can implement fast.
Sprinkle Controversy
Controversy always perks people's ears up, even when they do not agree with you. Only, be sure to back up your claims in your email content.
Steer Clear of Trickery
We briefly touched on this earlier on, but there's a different form of trickery. You've seen them before. Things like adding RE: and FWD:
Test and Try
Watch your metrics. Do not assume what worked for someone else will work for you, but don't not try it either. Give it a shot. Watch your numbers after the fact. Did it work? Too little data? Try it again later. Now, what are the results?
Ditch it if your other subject line approaches work better. Keep it, and tweak it if it works. Why tweak? Because people can tire of the same subject lines over and over from you.
Download this entire process to work on later.
Phase 2: Create & Strengthen Your Relationship
Your email list is much more than a tool to send offers. It's a way for you to develop a bond, gain your prospect's trust which will eventually lead to them giving you their business multiple times over. And, sometimes, it could lead to other mutually beneficial things like working together or having them refer others to you.
Ask How You Can Help Them
Get their suggestions for what they want to see in your future mailings. Ask their feedback how you can make your emails more useful for them. When you get responses, it helps you develop a deeper understanding of your target market. Sometimes, they will help you see avenues that you never thought of before.
Also, with today's email technology, you could segment responders from non-responders, further customizing the content so they reach precisely the right group. And when people receive what they asked for, they will naturally be more responsive to your emails.
Here's an example from my inbox.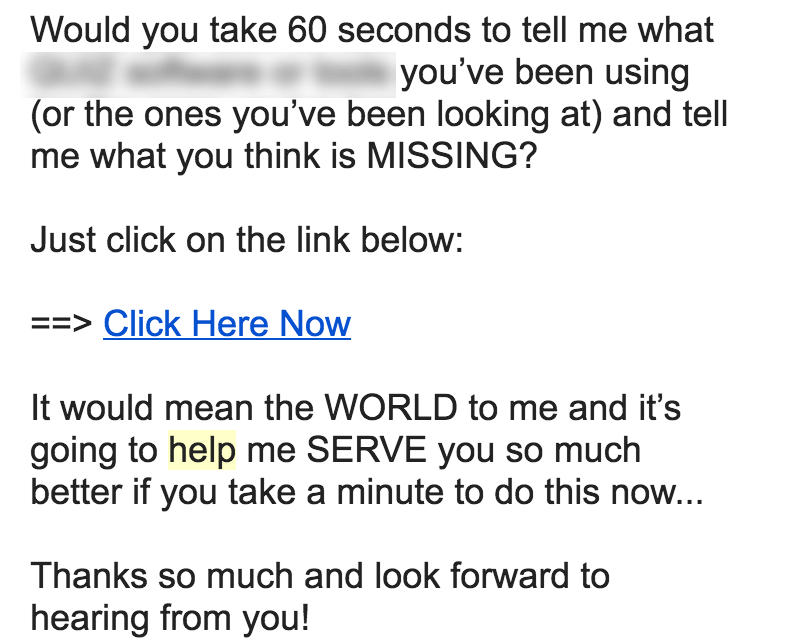 Accept Questions
For the longest time, one of the things I always had on my site is "Ask Lynette" page. It has one question, what is their biggest question about ___topic____ and one big text field to submit the answer. This has allowed me to create a lot of focused, well-received content. Not just for future emails, but blog posts as well.
Extend An Invite To Connect On Social Media
Social media allows you to engage with your audience in a way never before possible. Promote your social accounts in your emails. Intentionally invite them to connect with you there or join your group. This does two things. Build your following on social media and encourages clicking and responding to your requests.
Ask For Their Thoughts
An email is a poor tool for discussion amongst many people. Overcome this by sending subscribers a short introduction or synopsis of your blog post. Then send them over to the blog to read and discuss. You could also mix it up. Invite people to visit your social media profile to share their thoughts about your email.
Here's a different approach from my inbox. A simple click to rate email that doesn't involve taking up a lot of your subscribers' time and yet lets them make their voice heard.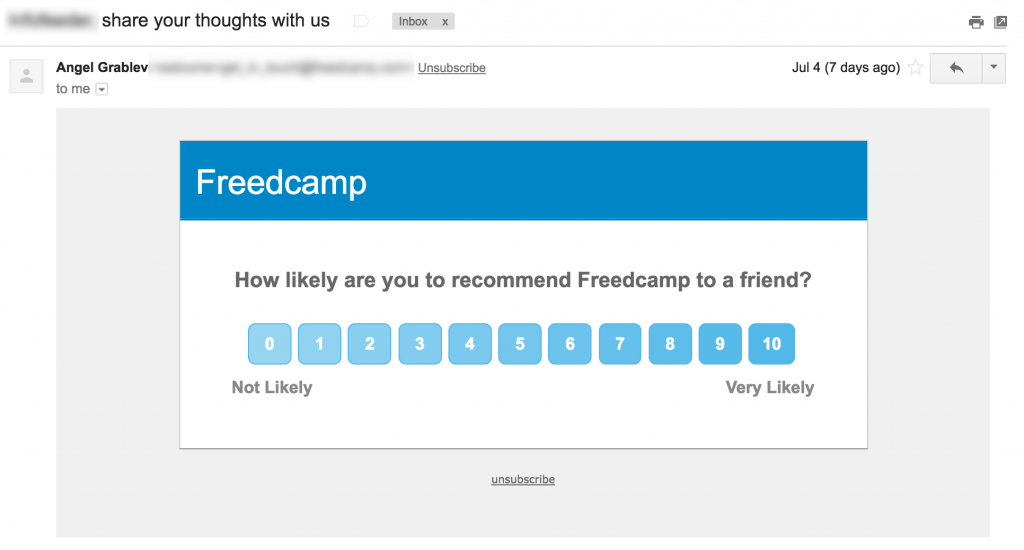 Send Them Your Videos
Hopefully, videos are already part of your marketing toolbox. Make those videos work harder by sending your readers over to watch them. Videos let your subscribers experience you. They can see your face, and hear your voice. This reassures them they are connecting with a real person.
Build Comments Into Your Emails
Did someone pay you or your company a compliment? Maybe they wrote you asking a question, or left a mini review on your blog. Ask if you can share it. Then work those into your emails.
This shows you are listening to what they are saying. It helps you create more content, helps others with the same concerns or questions. And finally, it is a form of social proof that you have happy customers.
Hold A Subscriber's Only Webinar
One of the easiest ways to create a bond with subscribers is on a webinar. Webinars give you a lot of time to present your message or show people your products. The live interaction allows people to ask questions and get the help they need quickly. It is as close to having an in-person group chat as you can get online and that is very helpful.
Work Hard To Save Them Money
Many people send discounts and special offers to their subscribers. The problem? They are also receiving the exact same discount offer from other people. This is very true in a large launch scenario where there are many affiliates pushing the same product. Do this instead.
Skip the launch rush. Negotiate a special and truly exclusive deal with the product owner directly. It may not be the same deal. In fact, it shouldn't be the same deal. It doesn't even have to be a discount but maybe a meatier bundle offer. Anything that brings value to your subscribers and they can't get it anywhere else.
Your subscribers will appreciate it, and you will get better traction for affiliate offers.
Tailor-Fit Your Messages
Today's email tools allow you to really drill down, segment and tag your subscribers like never before. This allows you tailor your offers and messages as much or as little as you want. Take advantage of that.
For example. Send an exclusive offer to those who clicked on a related link in the past.
Run A Survey
Some subscribers aren't interested in a deep level of engagement and that's OK. They still want to know their opinion matters. You could try a different approach like a survey. You get valuable feedback and they get to have their voice heard.
Click to download this to work through on your own time.
Phase 3: Develop Effective Offers
Now that you have gotten their attention with great subject lines, and developed a better rapport, subscribers are more likely to take action on your offers. That doesn't mean you can just bombard them with any and every offer. And this is no time to get sloppy either. Here are some suggestions to get the best possible results.
Make It Something Worthwhile
If you've been asking them to submit questions or running surveys as suggested above, you should already have a very good idea what your subscribers need and want. If you don't, go back and do those first.
Watch out for solutions to help them overcome those problems. Look out for tools and resources they are looking for in order to move forward. Whenever possible, ask for a special offer from the merchant themselves.
Watch Your Subject Line (Yes, Again!)
Don't try to mask the fact they might have to spend some money. People generally know things cost money. Let them know (briefly) there's an offer inside or they may see some savings if they open. You don't have to lay out all the details, but you should be direct.
Minimize Overwhelm
Make your email fairly short and to the point. Don't bury it at the end of a full blown article. Subscribers won't make it that far. Also, don't try to add too many other offers and variables. A good general rule is to let one thought, one action, and one offer shine in the email.
Target Your Offers
Most senders will broadcast one offer to everyone on the list. Sometimes that works. Other times it won't. If you aren't already segmenting, do so now. The sooner you do it, the faster you have the data to create and send offers based on what they need exactly and every person's needs on your list is bound to differ to some degree.
Create Anticipation
Launching a product? Let subscribers know something big is coming up. Start out by telling them to look out for a great offer in the coming days or weeks. As time draws near, you can slowly feed them more details about the launch. This keeps them interested and incentive to open every email leading up to the launch to learn more.
Make It A Privilege
An offer that is only available to a select few makes people feel special. It makes them feel like being part of your tribe has privileges no one else enjoys. Limit your offers to those to clicked the last few emails let's say or those who bought a product. You could also send offers to only those who responded to your surveys.
This is what Michael Hyatt did with a new product launch. First, he invited only subscribers to a closed group as part of a "think tank". Members got to participate in the product creation process, see work products, influence design, have a say in the content. See an example of the email below. It also was a fantastic way to build anticipation as well.
I was privileged ( <– see that? ) to be part of the group and was able to watch how all of this went down. When it came to launching time, many were so excited they didn't have to be sold on the sales page. They were already pre-sold. Plus, the interaction and connection built inside the group is something nobody can steal from him, even if they don't buy. He's built a loyal following.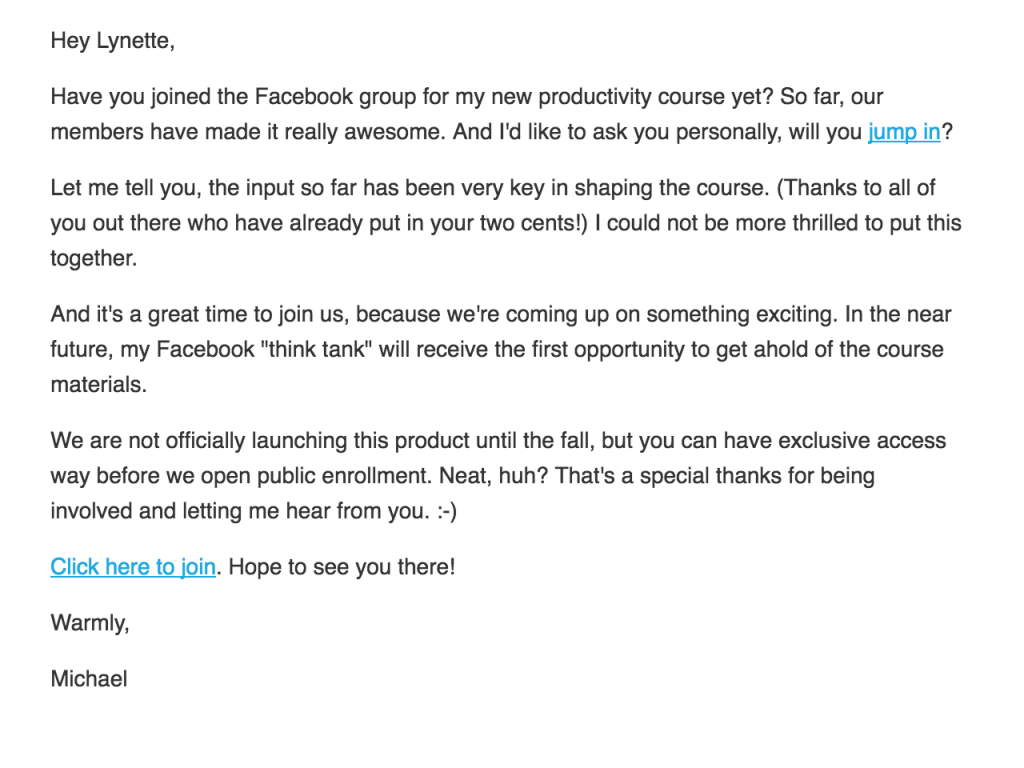 Story Time
Generally, you do not want to make your emails too wordy. But stories don't have to be lengthy at all. Learn to craft short stories to draw readers in, then connect that to the offer. This helps break the cycle of constant hard hitting offers that tired out your list.
Focus On Clicks
Your sales pages are designed to tell the full story and convince visitors this product is the right one for them. Your email's job is to get them to that page. Two different steps. There's no need to sell people in the email. Just work on getting them to visit.
Follow It Up
The lack of follow-up is a most common mistake. While you don't want to make them tired of hearing it, you should remind people of expiring offers.
Don't forget to follow up on buyers too. Thank them. Ask them for feedback. Let them know about features, settings, or information they might have missed in the product so they will consume it. Send them ideas, suggestions, and case studies if you have any so buyers can make full use of their purchase.
Wrapping It Up
In closing, some key takeaways to keep in mind:
Work (hard) on your subject lines. Test, and tweak them regularly.
Keep things short and to the point. This applies to both subject line and the email copy itself.
Given the above two points, it's a good idea to learn more about good copywriting.
As much as possible, reach out, invite, include. Make people feel special. Listen to their concerns.
When you consistently work these things into your email process, you should start seeing better results. There's a lot here to take in. If you can't read it all in one sitting, bookmark this, OR you can download this entire process in eBook form and read it later.
Download this whole process to enjoy and work through at your own pace.

Latest posts by Lynette Chandler
(see all)