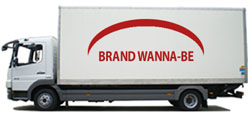 This afternoon I passed no fewer than 4 trucking company vehicles all sporting corporate logos that had a swish icon. They were either horizonal or vertical, red or blue. I'm sure if we check back with each of these companies, none of the images existed before Nike and their swoosh became synonymous. I imagine none of these companies realize that being a follower does nothing to strengthen their brands but rather strengthens the leader because of the similarities of image.
A lot of business people think wrongly that if they use a swoosh in their logos they will be on their way to fame and fortune. Let's face it, Nike has worked very hard since it's beginning to develop a brand that builds a strong active relationship with it's customers. Their icon could have been a box – it is the association in the customers mind that is important. As Nike grew, it's icon came to represent it. Much as Target and Apple are doing. Because of the reputation Nike has built, the association with the swoosh icon is strong and has cache because of it. Not the other way around.
Develop your brands to "Lead not follow.™" Differentiation is the goal, with it come the rewards.
For more than 30 years, I have worked with hundreds of successful small businesses by helping them develop unique brand positioning strategies that differentiates them from their competition. I appreciate working with companies who see the value of going beyond mere slogans and have a desire to sell from compelling positions. I consult predominantly with businesses facilitating my proprietary branding process. This branding process effectively focuses a company's brand delivering a positioning strategy that can be taken to their marketplace.

I have international speaking experience and am the author of "101 Branding Tips," Practical advice for your brand that you can use today. I'm also a "expert panellist" with Bob Proctor (from The Secret)'s Matrixx Events in Toronto.

I have been interviewed in all media and I also blog extensively and uses the digital realm on the web to connect and promote my services world-wide.

I have international speaking experience including a recent event in Prague, in the Czech Republic and is the author of "101 Branding Tips," Practical advice for your brand that you can use today, the book is available on Amazon.com and the Amazon Kindle store.

My clients are from Canada, The United States, Ukraine, India, United Arab Emirates and Tanzania.

I recently facilitated a workshop in San Diego aimed at teaching Graphic Design companies how to build brands for their customers.