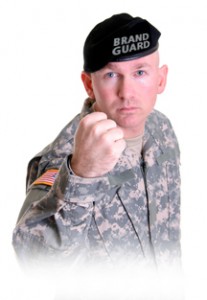 Has your competition ever accurately described what you do to a potential customer? My guess is not so much. Most promotional activity among small businesses in my experience does little to define a brand but does plenty selling clever slogans, flashy images, real estate and special offers. To ignore your brand position is to deny yourself the corner of your customer's mind that tells them why you are the go to people for what they are looking for. Without a defining brand position you are among the gray matter all of your competitors are fighting for. The quick fix, the sound bite, the mediocre message, the viral anything that everybody in your category embraces.
A competitor can only define an opposing brand when that opposing brand denies themselves the opportunity. Most brand positions when done correctly puts a brand out on a limb. The differentiation is clear and often intimidating to a competitor. Your goal in positioning is to resonate with your audience. First you must discover why they love you, then deliver a position that compliments what they love, builds on it and surpasses it. Positioning is not a slogan, it's a promise to deliver and if you're good at it – over-deliver.
For more than 30 years, I have worked with hundreds of successful small businesses by helping them develop unique brand positioning strategies that differentiates them from their competition. I appreciate working with companies who see the value of going beyond mere slogans and have a desire to sell from compelling positions. I consult predominantly with businesses facilitating my proprietary branding process. This branding process effectively focuses a company's brand delivering a positioning strategy that can be taken to their marketplace.

I have international speaking experience and am the author of "101 Branding Tips," Practical advice for your brand that you can use today. I'm also a "expert panellist" with Bob Proctor (from The Secret)'s Matrixx Events in Toronto.

I have been interviewed in all media and I also blog extensively and uses the digital realm on the web to connect and promote my services world-wide.

I have international speaking experience including a recent event in Prague, in the Czech Republic and is the author of "101 Branding Tips," Practical advice for your brand that you can use today, the book is available on Amazon.com and the Amazon Kindle store.

My clients are from Canada, The United States, Ukraine, India, United Arab Emirates and Tanzania.

I recently facilitated a workshop in San Diego aimed at teaching Graphic Design companies how to build brands for their customers.