When people think of you and your brand you want them to do 3 things: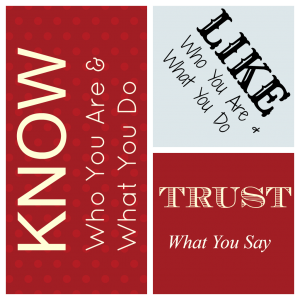 Know Who You Are/What You Do
Like Who You Are/What  You Do
Trust What You Say
When it comes to your brand and email marketing, personalizing your emails, auto-responders & newsletters can help you accomplish all 3 things listed above.
You want the email recipient to recognize the email is from you, like you enough to open the email right away and take action on what you're telling them to do.
One of the ways you can make that happen is by treating your reader like someone special.  Craft your emails so they're written directly to them.  Personalize it.  Make them believe you're talking right to them and the stuff you're sharing is specifically for their benefit.
Email marketing is one area of your business where you can make things personal between you and your subscribers. Done the right way, this method of marketing can mean more sales for your business.
Another way to cultivate Know-Like-Trust is to actually email your subscribers.  Your readers subscribed to your mailing list and they expect you to send them emails.  Think about this:
If you're not sending regular emails to your list you are depriving them of the information only you can provide them.
If you email your list on a regular basis you are training them – conditioning them, if you will – to expect emails from you.  When your subject lines are compelling and the email body is interesting & entertaining then your emails will be opened.  Once your emails are opened on a regular basis, your readers will start to take action on the recommendations you make.  But the first step is to write the email.
I'd recommend sending an email to your list a minimum of three times per week. Don't worry about feeling or acting "salesy".  If you think about email marketing as providing information, making recommendations and sharing awesome products then you'll do fine.
You don't have to sell in each email, auto-responder or newsletter but you should be including a clear call to action in each email that has then DO something.
Think about what you want the reader of your email to do:
sign up for an auto-responder
buy an affiliate product you recommend
buy one of your products
leave a comment
Then make it clear to your reader what ONE action you want them to take.
Make it a priority to email your list for at least 3 times each week for the next month and report back in the comments with your results.
I started my first offline business around 1992 I owned and operated a radio sales and repair shop for about 4 yrs. I have beenonline since around 1996. I dabbled mostly and it wasn`t till 2006 when I went to my first Big Seminarthat I really saw what the internet was doing right at my fingertips.
Since then I have started and currently run several service sites online.My personal brand online is notcompleted yet but I work on it daily in the hopes of establishing myself.

I decided to narrow down those that I truly follow and recommend. Armand Morin , Michel and Sylvie Fortin and Jim Howard author of Branded for Success are my main sources of knowledge these days by choice.
For inspirationTony Robbins fills the bill nicely.
I have to say that Ed Dale is still a favorite and I love what he has done with the Challenge and the amount of people I know who have benefited .Jimmy D Brown,Jim Edwards are always trusted sources of quality information.

I intentionally cut back on those that I follow to reduce the noise and allow me to focus on what is important.This is not to say there are not plenty of good people to learn from. I just think you need to choose a few and immerse yourself in what they can offer.

Napoleon Hill- is a must read for anyone in business

I think I have a diverse enough background to bring some good things to smallbusinessbranding.com . I look forward to the chance to prove it.
Latest posts by Ken Chandler (see all)