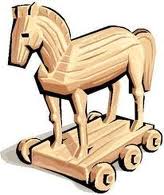 Before the web was a dominant influencer to a brand, a company could essentially hide behind their brand. How their advertising portrayed them was all the contact the public had with the companies they bought from. With this in mind a company could say one thing on the surface and do an entirely different thing behind the scenes. The tobacco industry is a good example. In the public eye, the advertising showed a lifestyle that was glamorous and appealing while the reality behind the scenes was that they were selling a product that could kill the user. At that time there was no recourse as effective as social media to exposing the double identity of that brand. Today the web changes that scenario.
Today, every business has to be sure that all channels of contact with their prospective customer may be using is represented in their marketing plan. You have to be aggressive in defining what your brand stands for. The flagship of your brand today is your website. If you hire an amateur to do you site, it will turn off those who approach you online. Your brand image must be consistent to make the best impression every time they come into contact with you. Any week points in your presentation works against you. Unlike the old days, you can no longer risk the ire of the public when you say one thing and do another. Authenticity is paramount to defining your brand. Anything that reflects bad behaviour will be exposed almost instantly to a planet-wide audience. If its bad enough, it could take on a life of its and ruin a brand.
The web is an open book and that's a great thing. If your brand fears the web, then it has problems culture-wide. The web absolutely levels the field. Staying on top off your marketing efforts on and off-line allows you some control over what messages are being pushed out to the public. The challenge of course is staying on top of these efforts. Just like lean manufacturing, your branding needs constant attention and improvement. To ignore your brand is to play with your sales potential.
For more than 30 years, I have worked with hundreds of successful small businesses by helping them develop unique brand positioning strategies that differentiates them from their competition. I appreciate working with companies who see the value of going beyond mere slogans and have a desire to sell from compelling positions. I consult predominantly with businesses facilitating my proprietary branding process. This branding process effectively focuses a company's brand delivering a positioning strategy that can be taken to their marketplace.

I have international speaking experience and am the author of "101 Branding Tips," Practical advice for your brand that you can use today. I'm also a "expert panellist" with Bob Proctor (from The Secret)'s Matrixx Events in Toronto.

I have been interviewed in all media and I also blog extensively and uses the digital realm on the web to connect and promote my services world-wide.

I have international speaking experience including a recent event in Prague, in the Czech Republic and is the author of "101 Branding Tips," Practical advice for your brand that you can use today, the book is available on Amazon.com and the Amazon Kindle store.

My clients are from Canada, The United States, Ukraine, India, United Arab Emirates and Tanzania.

I recently facilitated a workshop in San Diego aimed at teaching Graphic Design companies how to build brands for their customers.