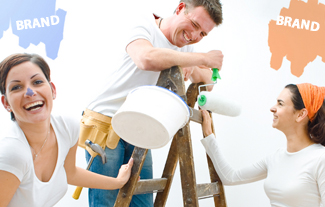 Your brand image is the face of your brand. It is the first thing your target audience sees when first introduced to you. What do you suppose goes through their mind when they see your brand image? Are the colors and imagery resonating by correctly representing your brand values and personality? How about consistency, are you showing one message?
At the first introduction everything is riding on your brand image. If a business's image is amateur, then they are doing immediate damage to sales goals. Their efforts to save money and get an image on the cheap, only shows their lack of understanding as to how the buying public formulates buying decisions. Their perceptions are the reality in the world of a brand. If a business looks like a small player, a person will have a more difficult time building a belief that the business can deliver for them. These perceptions and reactions happen in seconds. Building trust is huge in the sales cycle and so any distraction from that effort is critical.
Your brand image should also differentiate your company. Choose colors that not only represent your personality, fit psychologically but also are different than competing companies. Every aspect of your brand must be compelling to a prospect. Your brand image mustn't be simply window dressing either. You have to walk the walk. There are so many things you have to remember in order to succeed, your image should be the wonderful wrapping to a tremendous gift inside.
Take this opportunity to look objectively at your brand image. Ask friends and customers for their opinions in a short survey. Use the results to address any deficiencies and make your job a little bit easier.
For more than 30 years, I have worked with hundreds of successful small businesses by helping them develop unique brand positioning strategies that differentiates them from their competition. I appreciate working with companies who see the value of going beyond mere slogans and have a desire to sell from compelling positions. I consult predominantly with businesses facilitating my proprietary branding process. This branding process effectively focuses a company's brand delivering a positioning strategy that can be taken to their marketplace.

I have international speaking experience and am the author of "101 Branding Tips," Practical advice for your brand that you can use today. I'm also a "expert panellist" with Bob Proctor (from The Secret)'s Matrixx Events in Toronto.

I have been interviewed in all media and I also blog extensively and uses the digital realm on the web to connect and promote my services world-wide.

I have international speaking experience including a recent event in Prague, in the Czech Republic and is the author of "101 Branding Tips," Practical advice for your brand that you can use today, the book is available on Amazon.com and the Amazon Kindle store.

My clients are from Canada, The United States, Ukraine, India, United Arab Emirates and Tanzania.

I recently facilitated a workshop in San Diego aimed at teaching Graphic Design companies how to build brands for their customers.