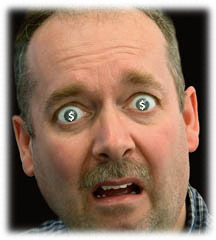 Graphic design firms have for years neglected a key space that can bring them a significant new stream of revenue. Most of this missed opportunity is due not understanding the opportunity of branding. For far too long, graphic designers have called developing logos "branding." Re-branding is being marketed as simply changing the logo of a company. This mis-information is then picked up by the media and the mis-conception breeds on itself. I cringe every time I see in the media that a company is re-branding, and on investigation, see that they are simply changing the logo.
You have to ask yourself, "why are clients seeing a need to re-brand?" and what-ever the reason, why did they feel that a logo change would solve their problem? My guess is that this concept was sold to them by graphic design and advertising firms. After all, that is usually all they understand that branding entails. If the reason to re-brand was a flattening of sales activity, the company wanting to raise the bar and reach to higher levels of business or even to strengthen a brand for a potential sale – how is a pretty new logo going to address those and many other serious reasons to re-brand (properly)?
To graphic design firms: If you're not getting twenty to fifty-thousand dollars for branding projects BEFORE you even start designing, then YOU'RE NOT BRANDING! In many cases there's no design included in a re-branding. Many of you are doing aspects of branding for free. Many graphic designers see themselves as artists when they should be seeing themselves as problem solvers. You'd be wise to get a handle on how to sell branding properly. What is really exciting is that branding, when done properly becomes a catalyst for additional graphic design. It may surprise graphic designers, but many brand process elements are not even graphic design functions. It is not a visual solution, but a strategic solution.
Logo re-branding isn't the graphic designer's fault entirely. It's just that they have been sold a bill of goods by peers who see low hanging fruit and don't have the tools and capability to do branding properly. Keeping the myth alive benefits them. Designers gladly grab the immediate opportunity, not realizing the real money eludes them. Designers should do themselves a favour and investigate embracing a branding process that allows them to not only position their practices as branding leaders but also allows them to change the conversation within their markets. Lift the veil on branding and watch your clients take you more seriously and in an entirely different light.
Sadly, re-branding by logo will in many cases have your clients revisiting issues in the short term. Why, because it won't (and can't) solve the problem that brought it about. There's only so much a visual can do to change perceptions. It's what we call putting lipstick on a pig – at the end of the day it's still a pig!
Are you in the design industry and want to learn more about driving profits by building brands for clients? Find out more here:  http://www.mydesignshop.com/common-mistakes-designers-make-with-branding-webinar
For more than 30 years, I have worked with hundreds of successful small businesses by helping them develop unique brand positioning strategies that differentiates them from their competition. I appreciate working with companies who see the value of going beyond mere slogans and have a desire to sell from compelling positions. I consult predominantly with businesses facilitating my proprietary branding process. This branding process effectively focuses a company's brand delivering a positioning strategy that can be taken to their marketplace.

I have international speaking experience and am the author of "101 Branding Tips," Practical advice for your brand that you can use today. I'm also a "expert panellist" with Bob Proctor (from The Secret)'s Matrixx Events in Toronto.

I have been interviewed in all media and I also blog extensively and uses the digital realm on the web to connect and promote my services world-wide.

I have international speaking experience including a recent event in Prague, in the Czech Republic and is the author of "101 Branding Tips," Practical advice for your brand that you can use today, the book is available on Amazon.com and the Amazon Kindle store.

My clients are from Canada, The United States, Ukraine, India, United Arab Emirates and Tanzania.

I recently facilitated a workshop in San Diego aimed at teaching Graphic Design companies how to build brands for their customers.