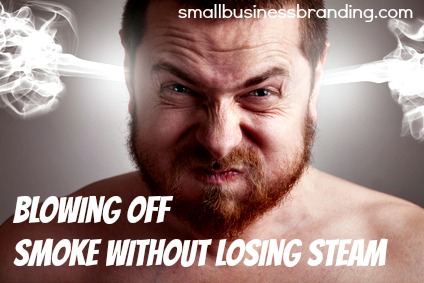 There's this guy named James. He runs a pretty successful business. It's obvious James has a lot of responsibilities and is a busy man. Regardless, when you talk to him, he's always positive, smiling and easy going.
Do you have a person like James in your life? It's like no matter what he's faced with in his business, he always seems to be calm and reasonable.
How do they do that and more importantly how can you?
The Eleventh Hour Should Be Spent Resting
For starters, don't leave projects till the last minute. Some people claim that the pressure of a short deadline helps kick them in the butt. That may be true for a handful of short term smaller projects but in general, if you're tackling anything large that affects your company for years to come. You'll need all the time you can get.
Similarly, if you are planning a project, remember to build in some creep time. In everything you do there will always be creep time. People get sick, families pass on, computers crash, nature unleashes its fury. I always like to plan for 20% extra creep time just in case. It's not a scientific amount. Just what works for me.
Take Care of Yourself
Eat well. By this, I don't just mean eat good (but unhealthy) foods. This is a challenge for even the best of us. Let's be frank, some of the most unhealthy foods are so good! Yet, our bodies are designed to function best with good fuel. You might have to change your habits. What you gain on the other hand would be much more than reduced stress.
Along with eating right comes exercise. It is rather amazing how much a mere 20 minutes of exercise can do to clear your mind – and you'll sleep better too.
Distractions Not Allowed
Do what you can to reduce distractions like gossip and toxic people. If you have staff who are constantly negative or vicious to others it is probably best you have a good chat with them. Hire only people who fit with your company culture. This isn't always apparent in someone so take your time it's easier to hire well than to fire someone.
Don't take part in any gossip – at all. As a leader it is not acceptable. If you hired well in the first place, this shouldn't even be an issue.
Being Realistic
Are you realistic with your expectations? If you know you have company coming and have a long list of things to prepare, don't schedule a major launch right before. It's not fair to your visitor for them not to get your full attention.
If you or your team don't have enough knowledge to complete the project well, consult an expert or hire contractors. It's a good thing to learn new things but only do that when you have time on your side.
You Make Me Feel Like Dancing
Listen to music that lifts your mood. It sounds bizarre but it works. Music can invoke powerful emotion and some swear by classical music to help them focus. No matter what your taste, if you are tackling a particularly unpleasant task, load up your music player with the music that makes you want to get up and dance.
Your music might be distracting for others who don't share your tastes so one way is to simply put on your headphones. This is even better as it signals to others you are unavailable and can help drown out other noises.
Your Turn
What would you do now? Hopefully more than leave this page and move on to the next juicy article. Pick one – any one – of these suggestions and try it. You owe it to yourself and your family to be more relaxed and happy.
Latest posts by Ken Chandler
(see all)