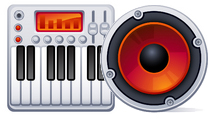 We are all familiar with visual brand images, but have you ever considered audio brands as part of your image? Every brand has a visual image including their logo and color palette. These elements are often developed with a special consideration given to establishing an icon. Icons are a form of sensory trigger that immediately reminds the customer of a brand the moment they are exposed to it.
Color icons are UPS's brown, ING Direct's orange and Mac's golden arches. Audio branding is a sound. Hearing it immediately makes you think of the brand exactly the same way a visual brand works. Great audio brands include Harley's motorcycle sound, Intel's notes, and the Hockey Night in Canada theme.
You don't have to be a multi-national to take advantage of sound. Putting a few catchy guitar licks at the front end of any presentations you do and marry that with your web presence and you can start to familiarize your audience with a sound icon. With the advent of mobile marketing, a sound icon would be a very powerful introduction. Myself, I'm putting mine to use in a series of podcasts.
Join the growing list of savvy marketing and include the senses as triggers to successful marketing.