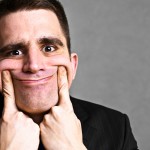 Do you happen to have a bad attitude towards your business? Is it not getting you where you want to go — right now? What's your Attitude?
Here's the definition of attitude: position or posture of the body appropriate to or expressive of an action, emotion, etc.: a threatening attitude; a relaxed attitude.
According to this your attitude is directly reflected to your body posture or position. It's like my husband said to me tonight, "Hun, what's wrong? I can tell you're upset." I said nothing about being upset, but the way I was sitting tonight on the couch made him think something was up.
At the same time, I never said anything about being upset but I recognized that I was very tired tonight. He could tell by my body language that I wasn't feeling my "best."
How does your body language translate to  your workplace? What vibes are you giving off? I honestly thought I was in not that bad a mood tonight, but I guess I had a tad bit of attitude.
I was browsing over at Ed's blog tonight and was reading about his take on Attitude — check it out, it will make you smile. It's a fun way to look at it.
Latest posts by Vera Raposo
(see all)