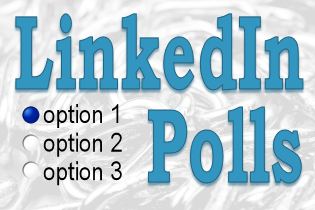 LinkedIn has surpassed merely being a site for aspirant unemployed guys to linger awaiting their next big break. It's a way for business professionals to mingle and engage like-minded people and find the folks who exhibit expertise in their markets on an everyday basis.
Peoples' viewpoints make for good content. If you review my eBook LinkedIn Profile Optimization for Maximum Exposure, you know that in the chapter on Applications I touch on polls on LinkedIn but didn't have a lot of detail to go with it. Here is a bit more on LinkedIn polls and how to utilize them.
My First Poll– Quality Not Quantity
In order to more fully analyze market demand for a product I was creating on Executive Video Interviews for business leaders, I put up the following poll on LinkedIn.
LinkedIn poll, web video poll, best web video, web video for small business
So what did I find out? Well, definitely I found out more people like utilizing web video for product demonstrations, something not all together surprising granting the simplicity of filming something live and uploading it on YouTube.
But did I really figure that out?
With only 16 replies, I'm no number cruncher but I'd say this is missing statistical significance. I had hoped for a lot more to respond to the poll. After all, I posted a link to it on about 20 LinkedIn groups. There should have been thousands of responses right?
Survey Tips
Here are a few things I found out regarding making use of this poll to interact with the small business community:
There is a ton of noise at LinkedIn. Readers won't notice or even care about your poll excepting that you MARKET THE DICKENS OUT OF IT. That means posting in the Groups, tweeting multiple times, and making use of Facebook and other social media to the max leverage you can.
This is an inkling, but I think that my Executive Video Interview responses don't tell me that much about receptivity to my product. Why? Because people haven't seen it it yet! Two of the 3 responders to this poll on that item were customers of mine who had them done. Since there is no one else I know who does this like me, that insider information twists the survey's results. Which way I am still debating. Since I took this poll down, industry understanding is advising me that my sample portfolio of client interviews is mustering up a lot more interest than a survey with a product not widely known. LESSON: All forced choice results need to be commonly known. For item acceptance (like this one), poll based upon product outcomes, not the label of the item.
In some cases the most intriguing facts are the feedback written by individuals who fill out the poll, explaining what they have done for their company (in this case). Don't neglect that gold.
Marketing the poll in specific groups only marginally related yields no outcomes. Because I use web video to aid businesses, I got more LinkedIn Group results from a group on Web Video with only a couple hundred, dedicated experts. The complication here was that some of these people, being connoisseurs in web video, may have been informing me what they specialized in, not what small business wanted.
Linking Up with LinkedIn Surveys
LinkedIn designs a terrific poll and it's simple to put together and put online, but it has 2 problems:
LinkedIn only keeps each poll for a month or so. You need to be able to market it and market it fast because you have a deadline to gather your information. Fact is, in most polling circumstances; they've done all they can in just a few days, so LinkedIn has a point.
You can't publish the survey on your LinkedIn profile; you can just put it in your status update and publish to Groups. If you're enhancing your profile you know you are posting updates every few days at the minimum. Saving you would like to become an irritating spammer on LinkedIn Groups, you won't publicize your poll there beyond once or twice every few weeks. This means that on LinkedIn itself, your poll has limited staying power other than in a generic Polls site, and typically speaking, people aren't surfing that searching for something to do.
Not a big deal. Here are a few ways to influence surveys in LinkedIn:
Embed on your Blog
Tweet out to your favored hash-tag trends and followers
Facebook post it for your followers
What about kinds of queries for surveys? Well, if the poll is something you just want to get responses to, write to low common denominators like popular culture or government. Everybody has a thought on them. If, however, you are wanting to find certain niche information about your company or market, as I was in this case, do everything you can to reach the audience to the niche so that they are interested in it enough to want to know the results themselves, or just live with a low response rate symbolic of your target reader size.
One way to do this targeting is to put your survey in a blog write up or article and submit to search engines. Through SEO your article will be read by those who discovered it who were trying to find it, and prospects are higher they vote on the poll. In the next few days I'll be doing this with one more LinkedIn poll on marketing techniques for small business. Get statistically significant results, particularly if they are unanticipated, and you have produced a sound bite that you can now leverage with, you guessed it, another article, a press release to news outlets, or posted as an item of interest on your website.
Latest posts by Karl Walinskas
(see all)