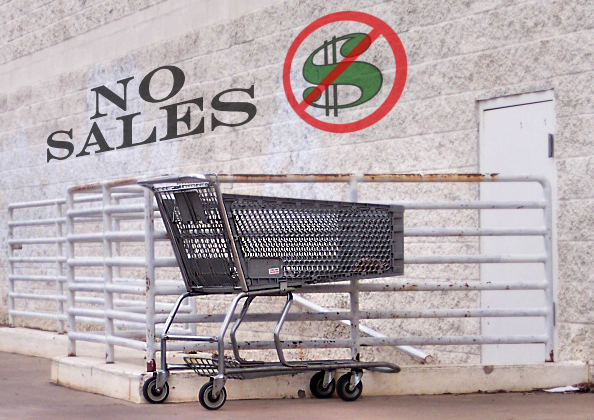 Your marketing is working. You are running an effective Google Adwords campaign. Your social media efforts are generating leads. Your Google Pagerank is increasing. And, you are attending tradeshows and utilizing local SEO.
You are a medium-sized business and these advertising methods are generating 30 – 40 BtoB leads a day. Each of these prospects filled out a form asking for a product demo, more information or free content. They contacted you first.
Sounds great doesn't it?
But here's the problem: your revenue is not increasing. Your sales numbers are not going up. Why? There are only five possible reasons your great marketing is not producing great sales numbers.

Possible Problems
Bait and Switch – One of the most obvious reasons leads don't convert into sales is because the ads promise something different than what you actually offer.
You are ignoring the phone – Perhaps you didn't know this (or perhaps you did), but conversion rates are 70% higher for a prospect that calls your business, than one who fills out an internet form. Translation: you are much more likely to make the sale when someone calls you on the phone.
With that stunning statistic in mind, here's a question: why don't you integrate phone numbers into Google Adwords, social media, tradeshows and local SEO? It seems like a reasonable question, right? If someone is more likely to buy from you when they call…why wouldn't you want them to call?
Your process is poor – What happens to the leads when you get them? Are they assigned to someone? Are they easily organized and accessible in a CRM like Zoho or SalesForce? Or, on the other hand, are they lost in the process somewhere? Do your leads escape?
Your sales reps are wussies – Far too many sales reps are simply afraid to contact leads that are not 'golden.' For example: leads that signed up for a free eBook, White Paper or newsletter should be contacted by a sales rep. Too often sales reps overlook leads that aren't 'hot.' They overlook these leads because they view them as a waste of time, or because they are scared of calling a 'cool' lead. They are wussies.
Your reps stink on the phone – This is the most common reason leads don't turn into sales. Prospects call your business. They inquire about pricing or ask about additional information. Or maybe they even view a product demo. But they never buy.
This is bad. Why does this happen? Because most businesses expend resources creating leads and then fail to effectively field leads. They fail to adequately train their reps to sell effectively. And they fail to hold them accountable using tools like call recording and call scoring.
In short: companies spend money to get the phone to ring but then fail to effectively sell when it does.
Don't Forget the Phone
Businesses that forget the phone will find that improved marketing results do not necessarily result in improved sales performance. Don't forget to market phone numbers and don't forget to track, record and improve phone selling performance.
Latest posts by Jason Wells
(see all)