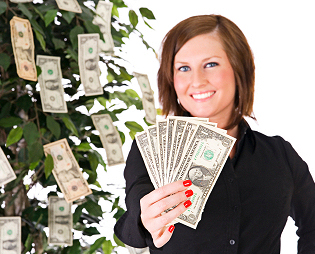 Every small business wishes they could drive more traffic to their website and get more customers. The big question is how do you drive more profits from your website? There are several ways to convert more web visitors into paying customers. Here are 5 ideas to try.
1. Improve Your Web Design
Has your website been updated since 1998? If it hasn't, stop reading and fix your website before you do anything else. Seriously, your website design should be updated every couple of years.

2. Put a Phone Number PROMINENTLY on Your Website
I am routinely stunned by the number of companies that don't have a phone number prominently displayed on their website. Sometimes they'll bury the phone number in the 'Contact Us' section. Retail chains will sometimes force visitors to click on 'Locations' before they see a phone number.
Why would you make it difficult for someone to find your phone number? Phone calls are the most valuable contact a customer can make. If someone calls they are more likely to buy from you. Why would you hide a phone number? Instead of hiding it, you should put your phone number in a prominently location 'above the fold' of the website.
This phone number should be a local or toll free number provided by a call tracking company. This will allow you to track how many people call that phone number and help you figure out if your website is producing profits for you.
3. Make it Clear What you Do
Have you ever been to a website and after 2 or 3 minutes you still can't tell what the company does? It is a common problem. Make sure your website clearly tells visitors what you offer.
4. Track Visitors and Calls to Your Website
We have a lot of small business clients. The other day I was talking with one and he said 'I don't even know why I have a website, it doesn't work.' I asked him why he thought it didn't work. He said that his customers are usually walk-in customers or they find him in the phonebook. They don't visit his website.
Here's the problem: he literally has no idea what he's talking about because he isn't using a free web analytics tool like Google Analytics.
If you have a website, you should be tracking web traffic as well as tracking leads from phone calls generated by that website. If you aren't tracking those things, you shouldn't have a website.
5. Add Valuable Content
If you want Google to like your website and improve your search ranking, and if you want potential customers to buy from you after visiting your website, you need to create valuable content on your website. This doesn't mean that you need to turn into an expert blogger. It does mean that you should start to improve your site content. Write interesting content or pay someone else to do it.
Latest posts by Jason Wells
(see all)