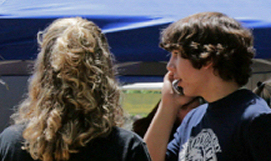 Late last week BIA/Kelsey, who provides provides market research, announced the findings of an extensive study about mobile marketing and local businesses. (They included LogMyCalls in their research, by the way, which is awesome).
The report proclaims that phone calls to local businesses are going to 'explode' over the next several years. Phone calls to small businesses will double by the end of 2013. Most of the increase will be from mobile devices after a mobile search.
The Twitterverse reacted to the BIA/Kelsey report with some skepticism, claiming that increased mobile phone usage will not result in more phone calls to small businesses. Those skeptics are wrong. BIA/Kelsey is right.
Given the skepticism in some circles, why is BIA/Kelsey making these claims? Upon what are they basing these claims? BIA/Kelsey says there are two reasons for claiming that phone calls to small businesses (especially local businesses) are going to increase so dramatically: 1) increased mobile penetration and mobile marketing, and 2) advances in call analytics.
Mobile Marketing and Mobile Penetration
For the first time, more than half of all cell phones sold are smart phones.  This has been a recent development, changing in only the last few months. And every shred of research is showing that mobile users—especially mobile searchers—want to call businesses after conducting a search on a mobile device. We've quoted this statistic a lot, but it bears repeating: 61% of local mobile searches result in an immediate phone call (Google). 52% of all mobile ads result in a phone call (xAd).
That means that as mobile penetration becomes more intense (happening now), and as mobile search surpasses desktop search (by the end of 2013), phone calls are going to become more common. BIA/Kelsey is, at least, saying that these factors will converge to create more phone calls for small businesses. That means that businesses need to prepare for phone calls, track phone calls and close phone calls.
Call Analytics
Businesses receiving phone is good, but BIA/Kelsey notes that it isn't enough. Getting information and data out of those calls, used for marketing and sales optimization is critical. Basic call tracking isn't enough either. Businesses are demanding more data.
That's why we're mentioned in this report. We are doing things with phone calls that would have been impossible just a few years ago.
Instead of merely tracking which marketing channels are generating calls we can track close rates from each marketing channel.
Instead of merely providing geographic data about the caller we can hear the caller and decipher voice intonation and lead quality.
Instead of generating calls and hoping those calls turn into closed sales, we can track the performance of phone agents to close more deals and make more money.
When BIA/Kelsey says call analytics, they're talking about extracting data from phone calls and using that data to improve conversion rates, save money and make more money. This information is going to be even more critical.
Get Ready
The critical thing to remember about this report is simple: calls to every small business will double by the end of next year. That means you better be staffed to take calls, you better track calls and learn how to close calls. So, if you aren't currently ready to take calls, track calls, or begin mobile marketing, you better get ready. If you don't, you will be left behind.
Latest posts by Jason Wells
(see all)