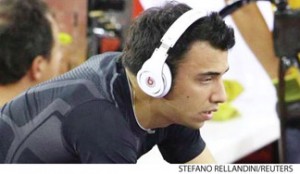 Currently, the 2012 Olympics in London, England is playing to a world audience. Everyone is counting medals and having a great time watching the competitions unfold. Amidst all this good sportsmanship, there's a commercial battle going on with rule #40. This rule disallows any athlete from wearing or exhibiting any commercial product except those sanctioned by the IOC. One headphone maker (Beats by Dr. Dre) had brilliantly (my opinion) high-jacketed brand awareness by giving a free set of head phones to every athlete. This effort has the athletes wearing them before matches, tweeting their gratitude and generally becoming willing advocates for Beats. This has the IOC up in arms. Nothing worse than letting a loose end, end-run their rule #40. Some satire has even surfaced on YouTube with athletes appearing with tape over their mouths with Rule #40 written on it. Of course this again benefits Beats and their awareness efforts.
Taking this as inspiration, you too can dominate your brand space with a little creativity. I happened to speak with a co-ordinator of a large industrial manufacturer who has numerous trades and labourers on construction sites. It was my suggestion that they wear one common colour shirt emblazoned with their logo. This move would allow them to dominate the job-site. At a glance any observer would assume they owned the job. Not unlike the Beats Olympic strategy, the goal is to project the illusion of dominance through brand awareness.
It's always important that your brand dominate. Every chance large and small to push your name must be acknowledged. The smallest example might have to be the humble email address. If your email doesn't end with your company name then you're doing your brand a disservice. If your email ends in Yahoo, Gmail etc. the only brand you're promoting is Yahoo and Google. It says your brands is not important enough.
When I blog or visit social sites, one way I try to dominate is to purposely leave comments and opinions all over the place. Leaving opinion behind, intrigues people who are also visiting those sites. My awareness is being touted by my becoming a thought leader.
Are you attending any conferences or trade shows soon? Are you attending any where you happen to know where your prospective customers might be staying? If so, consider hijacking the hotel they're staying in. Maybe leave coasters with your logo and any information that might resonate with them. Leave postcards and brochures in lounges, buy the billboard across the street and use it to speak directly to them. There is any number of ways to pull a Dr. Dre in your world.
Dominate the space you do business in.