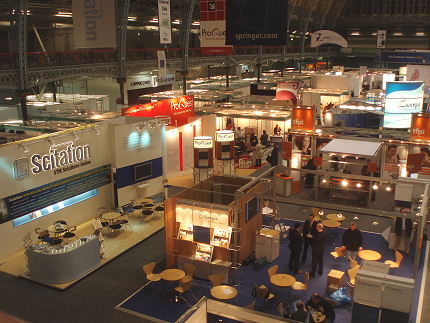 Trade shows are often times a necessity for many industries, but can be a daunting task to plan and implement. The upside to doing a trade show is that it is the most cost effective approach to market to a huge crowd. There are many social media and viral efforts for marketing, but trades shows are the only face-to-face marketing today. If you market wisely, trade shows can bring hundreds of motivated potential customers to you. Unfortunately, many exhibitors don't make the most of their trade show participation because they don't adhere to these simple rules:
Consult an exhibit or display expert
Believe it or not, there are some cost effective services that assist exhibitors in creating a relatively inexpensive display while increasing marketing potential and getting the message to people passing by. Reputable exhibit firms offer free design consultation and will create the right display while staying within your targeted budget. Don't spend too much on design. Trim the fat to save money. Sometimes less is more.
Study the Floor Plan
You don't have to make use of the premium spaces. They are typically at the entrance, expensive and unavailable. Choose areas that can be just as effective. Areas near restrooms, business centers, or food and beverages make awesome locations and are easier on the pockets.
See the Light.
Lighting is very important. Most venues offer booths with electricity. Pay the extra fees for a well-lit display to draw more attention.
Spit Out the Gum!
Train your staff on booth etiquette. Attendees are priority and should be approached and treated in a professional manner. Have the trade show giveaways ready in hand to distribute once a potential customer approaches the exhibit. No gum chewing, eating, sitting, relaxing or personal conversations at the booth. Most of all, NO Texting!
Get Leads & Follow Up
Take advantage of the tracking system that trade shows often have. If they don't have one, create a system to capture leads. Offer free products through a sweepstakes. Get potential customers to enter to win the product or service you're offering, by filling out cards with their contact information. Then follow up!
Invest in Great Marketing Materials.
They say pictures are worth a thousand words. Make use of great graphics to get your point across and put it on durable materials. One large image targeted to how your business can help the customer can say a thousand words. It can cost less, but say a lot more.
Dress for Success
Everyone recognizes a clean and professional look. A small investment in logoed apparel for your team can create a nice uniform company image. Printed or embroidered polo shirts, t-shirts or aprons etc. create a polished look.
Roll Out the Carpet
Rent or buy carpet with comfortable padding. Trade show venues usually get rid of carpet remnants after a huge show. This would be a good time to negotiate good carpet to secure for upcoming trade shows.